How to dance in Ohio
by Suzanne Carroll | .(JavaScript must be enabled to view this email address) | Cinema | April 5th, 2017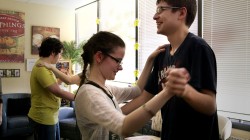 April is Autism Awareness Month. To celebrate both the unique challenges and capabilities of people on the Autism Spectrum, the Region V Transition Community of Practice Committee is hosting a free movie night at the Fargo Theatre on Thursday, April 6at 7:00pm.
The featured film is called "How to Dance in Ohio." The Region V Transition Committee is a multi-disciplinary group made up of area agencies, educators and families that come together for the common purpose of assisting transition-aged youth and young adults with disabilities to navigate the challenges of entering the adult world.
Along those same lines, "How to Dance in Ohio" follows a group of young people with Autism Spectrum Disorder (ASD) in Columbus, Ohio, as they prepare for an American rite of passage—a spring formal dance.
The movie documents a training period of 12 weeks, where participants learn all of the many steps that are required to successfully attend a dance. Many people without disabilities find social engagements difficult or awkward, but this film illustrates just how paralyzing some of the most basic social interactions are for those with ASD.
One of the main symptoms of ASD is impaired communication skills and this is highlighted from the start of training classes, as students ask questions about topics as simple as how to say hello to someone. One of the main subjects of the film, Jessica, puts it in painfully honest terms when she says, "We like to socialize, but we just don't know how."
Several other class participants are interviewed and share some of their common interests, such as Anime, Science Fiction and computers, as well as their common struggles, such as not understanding the subtleties of humor or being able to decipher the complexities of body language.
One young man said that he learned how to raise his eyebrows when other people are talking so that he appears interested during conversation. A common theme is just how badly these participants want to engage with the world around them, but how hard it is for them to grasp even the most fundamental skills needed to interact with others.
The film also touches on the hopes and fears that several of the participants' parents have. On the one hand, some parents feel a sense of pride in seeing how far their children have been able to progress and how much hope they have that their children will be able to become increasingly independent and find a life of meaning and happiness.
On the other hand, the parents are worried about what the world will be like for their adult children when they are gone. The world is not always kind to those who are vulnerable or different. The main therapist working with the film's subjects sums up this anxiety by saying that inviting young people to grow also means inviting them into the trouble that goes with it—hurt, anger and rejection. Indeed, this is one of the main struggles all young adults deal with, but those emotions can be crippling for those with ASD, as they often lack the innate coping skills that their peers take for granted.
The hope for a film like this is that it can shed light on what it means to be human, regardless of abilities or disabilities. Everyone ultimately wants the same thing—to feel accepted and to make connections with others. If we understand just how difficult basic social situations can be for those with ASD, perhaps it can lead us to find compassion for those we have written off as "socially awkward" or "weird."
[This event is sponsored by the Anne Carlsen Center, Freedom Resource Center, F.E.E.T., Metro Area Mayors Committee, NDSU-Disability Services and CHI-Friendship]
IF YOU GO:
How to Dance in Ohio
Thursday, April 6, 7pm
Fargo Theatre 314 Broadway N, Fargo
Free of charge and open to the public