​James Baldwin immortal: "I Am Not Your Negro"
by Greg Carlson | .(JavaScript must be enabled to view this email address) | Cinema | March 8th, 2017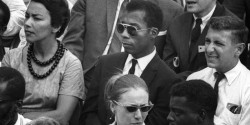 In Raoul Peck's monumental documentary "I Am Not Your Negro," one of the best moments – and there are several dozen from which to choose – comes courtesy of a clip from the 74th episode from the first season of "The Dick Cavett Show."
Originally aired June 13, 1968, the broadcast included an intellectual joust between James Baldwin and the Yale philosopher Paul Weiss. After listening to a ponderous, condescending, and clueless Weiss counter his initial comments, Baldwin takes his knives out and delivers an excoriating rebuttal that, nearly half a century later, inspires applause in a full movie theater.
It would certainly not be lost on Peck, who earned a degree from the German Film and Television Academy Berlin, that "Weiss" translates to "white" or "knowing."
Peck, a filmmaker and political activist who served as Haiti's Minister of Culture in 1996 and 1997, explained in a "Los Angeles Times" interview with Tre'vell Anderson that, against the odds, he was granted "unprecedented access to the entire [Baldwin] estate."
Baldwin's sister Gloria Karefa-Smart shared with Peck a 30-page collection of notes for Baldwin's unfinished "Remember This House," in which the writer planned to explore race through an examination of his personal relationships with Malcolm X, Martin Luther King, Jr., and Medgar Evers.
Using that triptych structure as the basis for his film, Peck lets Baldwin, and Baldwin alone, take us by the hand. Baldwin's thoughts are by turns intimate and reflective, urgent and revelatory. A. O. Scott wrote of the film, "It doesn't just make you aware of Baldwin, or hold him up as a figure to be admired from a distance. You feel entirely in his presence, hanging on his every word, following the implications of his ideas as they travel from his experience to yours."
Read with gravitas by Samuel L. Jackson, Baldwin's text serves as an auditory accompaniment to the often uplifting, often devastating pictures that Peck has selected. No additional narration, no talking heads, and no explanations are necessary.
As a Virgil-like guide, Baldwin counsels that America is more Inferno than Paradiso, despite the sophistication of the illusions being bought and sold. Peck samples movies familiar ("King Kong") and less familiar ("They Won't Forget"). He suggests, via the garish hues of WarnerColor, that a seemingly innocuous fantasy like "The Pajama Game" conceals a wolf in sheep's sleepwear. And that black and white readings of "The Defiant Ones" don't reconcile. And that "In the Heat of the Night" could show a kiss even if we don't see lips touch lips.
Peck's prodigious gift for juxtaposition is simply astonishing. In addition to the Hollywood films, he remixes a devastating hurricane made up of archival clips and images detailing 20th century American popular culture, social upheaval, civil rights, and history, combining it all with a freshness that has the effect of making you believe you are seeing all these things for the first time.
And when the director shifts the viewpoint from Baldwin's lifetime to more recent scenes from Ferguson, Missouri following the killing of Michael Brown, and also to an infuriating roll call of several others who died at the hands of the police, it is not hard to imagine Baldwin alive, speaking truth to power today and tomorrow.