​Love outside the bubble: "Everything, Everything"
by Greg Carlson | .(JavaScript must be enabled to view this email address) | Cinema | May 31st, 2017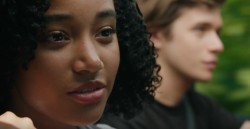 WARNING: The following review reveals plot information. Read only if you have seen "Everything, Everything."
Planted squarely in the heart of YA-adapted teen fantasy, Stella Meghie's film of Nicola Yoon's 2015 novel "Everything, Everything" doesn't always capitalize on its absolutely bananas premise, but logs excellent mileage from charming lead Amandla Stenberg.
Following in the contaminant-free footsteps of "The Boy in the Plastic Bubble" and "Crystal Heart" (but not so much "Bubble Boy"), the story follows Maddy Whittier, confined for 18 years to the sealed safety of her protective physician mother's (Anika Noni Rose) designer home.
Diagnosed with SCID (severe combined immunodeficiency), the rare genetic disorder made famous in part by Ted DeVita and David Vetter, Maddy falls for boy-next-door Olly Bright (Nick Robinson), and decides to risk her life for her new love.
The cases of DeVita and Vetter, which inspired Randal Kleiser's made-for-TV movie "The Boy in the Plastic Bubble," fueled popular interest via the medical ethics and built-in pathos of children who could not experience one of the most basic human expressions: skin-to-skin contact with their own family members.
Maddy's circumstances are less severe, as she spends time in face-to-face proximity with both her mother and her longtime nurse Carla (Ana de la Reguera).
Meghie, working from a screenplay by J. Mills Goodloe, filters the viewing experience through Maddy's eyes, coming up with some visually appealing ways to supplement the text balloons that commonly convey contemporary communication in cinema.
"Everything, Everything" is not the sort of exercise that holds up under close scrutiny, and those viewers preoccupied with logic over lovemaking will come away disappointed. For example, Maddy's compliant and well-adjusted attitude incongruously clashes with her curiosity about the world and her place in it.
She verbally cites internet access as a balm, but given the wealth and resources at her mom's disposal, one might imagine that a desire to explore the world outside would have at least inspired some mother-daughter conversation about ways to make that happen (the presence of a fantasized astronaut alludes to the space suits worn by DeVita and Vetter when they ventured outside their "bubbles").
And even if the acquisition of a credit card is easy, Maddy's reckless flight to Hawaii would require state-issued identification, something Maddy lacks (as pointed out by Susan Wloszczyna) if, as emphasized, she has never left the house.
The potentially predictable twist that Maddy does not, in fact, truly have SCID but has been cruelly imprisoned by her unstable mom, is the bombshell that rips the largest hole in the tale's credulity -- not because it lies outside the realm of possibility, but because the film seemingly can't be bothered to develop Rose's Dr. Pauline Whittier as a complex and complete character.
In spite of the lapses, "Everything, Everything" effectively navigates the romance at its rapidly beating heart. Stenberg and Robinson flirt and kiss and communicate and show concern for one another with the earnest intensity of a thousand true-blue TV couples, making the most of lines like "When I talk to him, I feel like I'm outside" and "My life is better with you in it."
From "Love Story" to "A Walk to Remember" to the more recent "The Fault in Our Stars" and "The Space Between Us," the familiar contours and durability of the illness and/or health-risk meet-cute genre finds no shortage of contestants, but the presence of the progressive Stenberg, a self-described "intersectional feminist," brings to "Everything, Everything" a welcome blast of fresh air.