​Mad monster party: Vigalondo goes 'Colossal'
by Greg Carlson | .(JavaScript must be enabled to view this email address) | Cinema | May 24th, 2017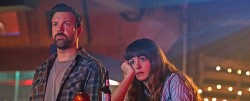 "Colossal," Nacho Vigalondo's highest profile film to date, mashes genres with a premise so otherworldly that it nearly gets away with its distressing supply of missed opportunities.
The gonzo suggestion that the actions of a giant monster looming over Seoul, South Korea are directly, psychologically linked to an American alcoholic will attract curiosity seekers.
Others will be intrigued by the presence of Anne Hathaway in the lead role of Gloria, whose booze-soaked irresponsibility finally drives boyfriend Tim (Dan Stevens) to boot her from the New York City apartment they share.
Gloria retreats to the small hometown of her childhood, seeking refuge from her messy personal crisis in a vacant family house. She soon encounters childhood pal Oscar (Jason Sudeikis), a bar owner who offers Gloria a job at his tavern.
Despite, or perhaps because of, the proximity to liquor, Gloria accepts. Oscar's romantic interest in Gloria is not reciprocated, and she takes an interest in Oscar's friend Joel (Austin Stowell), another regular who hangs out with mutual buddy Garth (Tim Blake Nelson).
While Vigalondo fills in the blanks of the interpersonal relationships, a much weirder drama unfolds in the foreground.
Reappearing a quarter century after its initial sighting, a strange creature towers over the urban cityscape thousands of miles from Gloria, materializing out of thin air during a precise time window. It dawns on her that the kaiju, somehow, mirrors her movements within the boundaries of a local playground.
She confides the unbelievable truth in Oscar and her new friends, and Oscar figures out that he, too, can get in on the action as the controller, ala "Pacific Rim"-style "drifting," of a giant robot.
Richard Brody generously maintains that "Colossal" is "a gender-centered trauma involving the physical force exerted by males (of any age) against females," but Vigalondo's preoccupation with the rules of his game limit that exploration.
Working from his own screenplay, Vigalondo sustains an air of believability through the combined efforts of the play-it-straight ensemble and the solid special effects. "Colossal" falters, however, in several lapses related to the demands invited by Vigalondo's foray into magic realism.
Gloria only superficially accepts that she personally caused the deaths of hundreds of innocents, and Vigalondo fails to convey a level of guilt, shame, horror, and revulsion that would deepen and intensify the character (not to mention anything close to a passing thought that someone, for good or ill, might reach out to the police, or a scientist).
One of the primary features of the Japanese "strange beast" genre is that the kaiju can be protagonist or antagonist, and Vigalondo flirts with the relative good/evil perception of the monster and the robot.
But given the film's tone, how should we wrestle with the massive-scale death and destruction wrought by Gloria and Oscar? Cinematically speaking, we are conditioned not to think about such things. Dan Rubey, writing about "Star Wars," noted, "...Obi-Wan Kenobi's brief attack of heartburn does not convince us that something tragic has happened. We do not experience the deaths of the people on [Alderaan], and thus those people do not exist in the film."
Rubey goes on to argue that the explosions of Alderaan and the Death Star are presented in such a way that the viewer is invited to enjoy them aesthetically. The recent critique of Brian Williams for his unironic application of a Leonard Cohen lyric to describe the April airstrike in Syria by the U.S. military as "beautiful" is another example of Rubey's concept of the "abstract and generalized" romanticizing of mayhem.
One could claim that certain genre films deliberately obscure the costs of battle -- the post-9/11 depictions of rolling dust clouds and collapsing buildings in superhero movies, for example, provide a bounty of case studies.