​Mudbound: Dee Rees adapts compelling period novel
by Greg Carlson | .(JavaScript must be enabled to view this email address) | Cinema | December 13th, 2017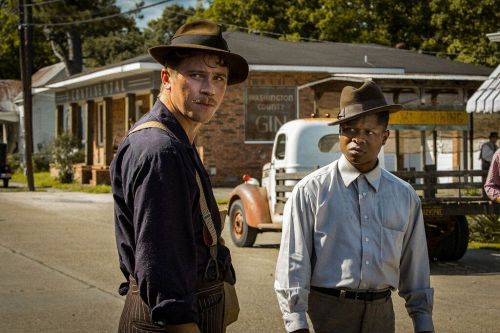 On her biggest canvas to date, filmmaker Dee Rees paints a vivid picture of two American families in "Mudbound," a deeply satisfying drama based on Hillary Jordan's 2008 novel.
Adapting the screenplay with collaborator Virgil Williams, Rees skillfully weaves a tale that dissects and addresses race, war, poverty, alcoholism, adultery, post-traumatic stress disorder, and other substantive themes. She does this with tremendous confidence and focus, retaining the novel's multiple narrators and infusing each significant character with the fullness of human contradiction and complexity.
The two principal groups of relatives, one black and one white, are linked together by their commitment to a tough patch of cotton farmland in the Mississippi Delta, in the years surrounding World War II.
Both clans, the McAllans and the Jacksons, face hardships and humiliations, but the specter of Jim Crow additionally burdens the latter. Sharecroppers always a step or two behind the poor McAllans (for whom they labor), the Jackson family is led by Florence (Mary J. Blige) and Hap (Rob Morgan). The land they work has been purchased by Henry McAllan (Jason Clarke), who moves with his wife Laura (Carey Mulligan), their two daughters, and his noxiously racist father Pappy (Jonathan Banks) into a spartan hovel with no running water.
In his review of the film, Justin Chang notes, "The radicalism of 'Mudbound' thus lies in its inherently democratic sensibility, its humble, unapologetic insistence on granting its black and white characters the same moral and dramatic weight." This balance is achieved not only through the physical proximity that binds the Jacksons and McAllans despite the social conventions of systematized segregation that prevent anything approaching open affection or neighborliness, but also through the rich details of the unspoken rules of behavior in the Deep South.
Chang also remarks that Florence "commands more authority and respect in her household than Laura does in hers" -- another example of the highly detailed way in which Rees explores the intricacies of gender.
The two matriarchs are additionally connected to one another in ways specific to womanhood. Florence is simply not in a position to say no when essentially conscripted to come work for Laura following a whooping cough scare. Outwardly less demanding than either of their husbands, the women find ways to assist one another that carefully exist within strict, unspoken guidelines. But as Emily Yoshida astutely notes, "Without the aid of institutionalized slavery, and seemingly without knowing it, Henry and Laura have completely co-opted their neighbors' lives," which in one sense is even more insidious than the visible, open racism spewed by Pappy.
Rees directs all the members of her talented ensemble to uniformly impressive work. Garrett Hedlund as Henry's brother Jamie and Jason Mitchell as Florence and Hap's son Ronsel -- the two men who see combat -- eventually move to the center of the action. Both return to the United States following military service, and their unique and peculiar experience, accompanied by firsthand knowledge of instant, brutal death, allows the pair to form an unlikely friendship.
Loyalty to kin brings them home, but in a very real sense made achingly tangible by Rees, it's too late: the bigotry, ignorance, and narrowness of the community suffocates these two souls, and the longer they remain on the farm, the more the stormclouds of tragedy gather.
["Mudbound" is currently available on Netflix instant watch.]