​New to Blu: Classic art film disguised as war film
by Christopher P. Jacobs | .(JavaScript must be enabled to view this email address) | Cinema | August 2nd, 2017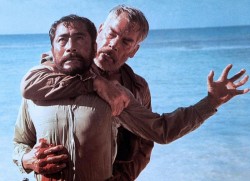 Director John Boorman is probably best remembered for his intense and still-disturbing hit adaptation of James Dickey's forest survival allegory "Deliverance" (1972), his eccentric King Arthur interpretation "Excalibur" (1981), and his first Hollywood film, the offbeat Lee Marvin-Angie Dickinson crime drama "Point Blank" (1967), later remade by Mel Gibson as "Payback" (1999). His bizarre sci-fi film "Zardoz" (1974) also has a cult following.
Boorman's follow-up to "Point Blank" was another Lee Marvin project, the ambitious but low-key World War II adventure-survival tale "Hell in the Pacific" (1968), a two-character film co-starring Japanese legend Toshiro Mifune. Kino Lorber released "Hell in the Pacific" to Blu-ray earlier this summer.
Ostensibly a war story, "Hell in the Pacific" is really a thoughtful psychological character study of two enemy soldiers stranded on the same island during wartime. (A loose and rather less effective remake by Wolfgang Petersen in 1985 reimagined the situation in a science-fiction setting as "Enemy Mine," with Dennis Quaid and Louis Gossett, Jr.)
Boorman loved the concept of almost purely visual storytelling and set out to make what is essentially a silent film, since the two soldiers cannot understand each other's language and the very little dialogue included was not subtitled for its original release.
The disc includes optional English titles that now let viewers know what each man is saying, which somewhat defeats the original effect and detracts from the pair's initial alienation and misinterpretations of each other, but it does give Mifune's character much more dimension for non-Japanese speakers.
Marvin and Mifune are both in top form as the enemy officers first out to kill each other, then steal each other's supplies, capture and torment each other, before finally realizing they somehow need to join forces and forge an uneasy friendship in order to escape their hostile island environment for a larger island.
Conrad Hall's beautiful Panavision widescreen cinematography brings out both the harshness and the peacefulness of nature, as well as the shifting emotions of the two characters. Adding to the atmosphere and intensity is that film was shot entirely on real locations with no studio or soundstage work, including the harrowing ocean raft sequences.
"Hell in the Pacific" is a fine art film masquerading as war film, as the audio commentary mentions. When it came out, audiences looking for a war movie, misled by the title, were not sure what to make of it. Audiences looking for an artful survival story were likely put off by the militaristic title.
Interestingly, it's one of the few adult-oriented films to earn a "G" rating, not a big deal when the ratings system was first established in 1968, but now an extreme rarity in today's tradition of using ratings as marketing tools and warnings for oversensitive parents.
After a disappointing initial release, the studio changed the film's ending to a more cynical, 1970s-era conclusion without the director's knowledge, and that theatrical version is the default ending on the disc.
However, luckily Kino has restored Boorman's original, more ambiguous and slightly hopeful ending as an alternate seamless branching option (although it then stops with black rather than continuing with the closing credits). This is the ending to watch first, and then re-watch the last five minutes with the theatrical ending to see which you prefer.
Adventurous viewers may wish to obtain a nice bottle of Sake to heat up and sip through the film, especially during the final sequence as the two men indulge themselves after all they have been through together.
Kino's Blu-ray is unfortunately uneven in picture quality. Some parts are pretty sharp, but much of it looks rather soft most of the time. Sitting back further from the screen mitigates some of the softness, and overall it's still much better than a DVD.
There is a good DTS-MA 2.0 stereo soundtrack, but a Blu-ray player must be set to convert that to PCM 2.0 and played through a ProLogic decoder to extract all four original channels plus a subwoofer track, otherwise many amplifiers will play the lossless sound through only the left and right speakers.
Bonus features include a very interesting and informative audio commentary by historians Travis Crawford and Bill Ackerman, who discuss many of the other works by the director and stars, as well as other influential films of the era. They also recap much of what John Boorman recounts on his often-extreme difficulties getting the film made in the fascinating half-hour interview recorded for this disc earlier this year.
Another nice bonus interview (about 10 minutes) lets art director Anthony Pratt (a nephew of Boris Karloff) discuss his involvement with this and other Boorman films. There is sadly no trailer for the film itself, but there's a gallery of five trailers to other films by Boorman, Marvin, and others from the era.
HELL IN THE PACIFIC on Blu-ray – Movie: A / Video: B / Audio: A- / Extras: A-