​Obscure movie rarities get Blu-ray release
by Christopher P. Jacobs | .(JavaScript must be enabled to view this email address) | Cinema | March 1st, 2017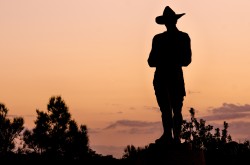 Grapevine Video has recently started releasing a few films on Blu-ray (BD-R), films that major distributors are unlikely to consider worth their effort. This is partly due to the films' extreme obscurity, but also the fact that many survive only in old 16mm prints that often look quite sharp, but cannot quite rival the clarity of films whose camera negatives or original 35mm prints still exist.
Grapevine's Blu-rays present the films "as-is," with no digital cleanup work or restoration, but the HD resolution captures a film-like appearance that is still sharper than a DVD and drastically sharper than an old VHS tape. Blu-ray enthusiasts accustomed to pristine restorations may be disappointed. Experienced film collectors will see nothing unusual.
This February Grapevine released the following two virtually unknown silent "program pictures" made by low-budget independent studios for small-town and neighborhood movie houses.
"The Cowboy and the Flapper" (1924) is an entertaining Phil Goldstone production for the Truart Film Corporation, solidly directed by Alvin J. Neitz, later known as Alan James. It stars prolific but little-remembered leading man and supporting actor William Fairbanks, who appeared in over 60 films during his 12-year career. Many were starring roles in low-budget Goldstone productions but he began at Triangle and ended up at MGM except for his last film, a 1928 Mascot serial.
Fairbanks acted with the likes of William S. Hart, Tim McCoy, Yakima Canutt, and others, but retired at the coming of sound and died of pneumonia at age 50 in 1945. Unfortunately only a few of his films have survived. In fact the Library of Congress has no record of any prints of "The Cowboy and the Flapper" in the world's film archives, so this disc may well be sourced from a unique collector's print.
The 51-minute film is a fairly routine but well-made and enjoyable action-western with touches of comedy and the inevitable romance that develops by the end. Fairbanks plays a Marshal, newly-arrived at a small western town where the leading citizens seem intent on fixing him up with their daughters. After the second such invitation, he politely excuses himself to go off and capture some bank robbers. When he locates a gang, he decides to pose as a notorious bank robber himself to gain their confidence.
About that time, however, the attractive daughter of a local colonel (Dorothy Revier) happens to wander too close to the gang's hideout and is captured, so he has to figure out a way to rescue her (not realizing she's the daughter he'd avoided meeting) as well as capture the gang. It's not hard to predict what happens, but it's still fun to watch.
The film provides a rare chance to see William Fairbanks in action, demonstrating considerable screen presence and a charm sometimes approaching that of cowboy superstar Tom Mix.
Picture quality is reasonably good, like a good if occasionally battered 16mm print, and preserves the original pale pastel tints: amber for daylight, brown for interiors, and blue for night scenes. The missing main title is replaced with a digital one. The effective Dolby Digital stereo organ score was composed and played by Moorhead Minn. organist Dave Knudtson. There are no bonus features other than a main menu and chapter stops.
THE COWBOY AND THE FLAPPER on Blu-ray – Movie: B / Video: B+ / Audio: A / Extras: F
"The Thrill Seekers" (1927) was originally a six-reel film running about 58 minutes, but this surviving copy seems to be abridged by about a reel for its non-theatrical distribution. By odd coincidence the director, Harry Revier, had been married to the female lead of "The Cowboy and the Flapper" at the time that film was made, but divorced by the time this film was made. This low-budget indie production (H.V. Productions, released by Hi-Mark Productions in September 1927) has a perfectly fine cast and good, well-polished production values.
It's a fun comedy-drama-romance about a rich but sheltered lumberjack (Jimmy Fulton, later billed as James F. Fulton) who decides to find thrills and excitement in the big city, with the help of his new valet (Lee Moran) and chauffeur (Harold Austin). At a classy but boisterous speakeasy, he sees an equally sheltered socialite (Ruth Clifford) being harassed by her escort, the villainous but supposedly respectable owner of the joint (Robert McKim), and naturally breaks in to help her get away with the assistance of showgirls Sally Long and Gloria Grey. This naturally does not go down well with our villain, who soon kidnaps both of them, planning to knock off the lumberjack and run off with the girl. Needless to say, after plenty of fisticuffs and action, all turns out well for our couple.
Picture quality is very good for the most part, slightly sharper than "The Cowboy and the Flapper," but there is plenty of print wear, especially splices and missing footage here and there. The main and end titles are missing, replaced by Grapevine with digital text rather than jumping right into the opening credits or freeze-framing the fragmentary "The End."
A long scrolling opening title explains the story's setup, but it's possible that the full-length original cut had some scenes of the lumberjack before he moved to the city, as well as a few other scenes that would help explain some of the hazy motivations and dialogue. Still, it's not difficult to follow even with a few continuity gaps and jump cuts.
The audio is a pretty good orchestral accompaniment, well-synchronized by Grapevine's Jack Hardy, probably using movie scoring software like Sonicfire Pro. Again there are no extras besides a main menu and chapter stops.
THE THRILL SEEKERS on Blu-ray – Movie: B+ / Video: A- / Audio: A / Extras: F