​Offline: 'Men, Women & Children' in the internet age
by Greg Carlson | .(JavaScript must be enabled to view this email address) | Cinema | October 30th, 2014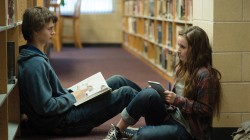 Trading the comic complications and satirical stingers of "Thank You for Smoking" and "Juno" for the more nakedly manipulative white whine and/or bathos of "Up in the Air," "Young Adult," and the critically ravaged "Labor Day," filmmaker Jason Reitman adds another entry to his list of underwhelming missteps. The director's sixth feature, "Men, Women & Children," is based on the novel by Chad Kultgen, and aspires to examine the dark side of our fascination with smart phones and social networks. Good films about connectivity and disconnectedness are possible, but "Men, Women & Children" can only dream of being in the same class as "Me and You and Everyone We Know."
Juggling a sprawling ensemble that includes a group of parents played by Adam Sandler, Rosemarie DeWitt, Jennifer Garner, Judy Greer, and Dean Norris, Reitman devotes equal time to the lives of teenagers including Ansel Elgort, Kaitlyn Dever, Olivia Crocicchia, Travis Tope, and Elena Kampouris. These men, women, and children, slaves to a culture determined by the façade of identity construction and the relentless demands of online profile management, appear to fulfill the prophecy of diminishing face-to-face human contact. Reitman never misses an opportunity to remind us of their pain.
The extent to which the movie manages to accurately capture some, if any, of the rapidly changing uses of the Internet is debatable, and the most tech-savvy viewers will snort derisively at a few of the more outmoded references. "Men, Women & Children" continues the visually intriguing evolution of the onscreen display of electronically mediated content like text messages, and Tony Zhou's "A Brief Look at Texting and the Internet in Film" is a highly recommended primer for viewers either before or after they screen "Men, Women & Children." Zhou's short video effectively explores in five minutes several of the things Reitman struggles to do in just under two hours.
Zhou argues three key ideas regarding the dramatic increase of onscreen textual integration: it is more economical than the old manner of using close-up insert shots of phone screens, it is "artistically efficient" (in that "shot/reverse shot is slow"), and it "allows us to combine action and reaction in the same frame" via an uninterrupted view of an actor's performance. Zhou praises "Sherlock" as the definitive exemplar of the technique's "elegant design," identifying several specific ways in which the BBC series has elevated the game: elimination of the display bubble containing the text, unified typeface and color – which further involves the audience by requiring the viewer to infer who is sending the message, and graphics that are (mostly) untethered to character or device. "Men, Women & Children" does not adhere to these practices.
In Reitman's movie, the messages are indicative of a dispiriting isolationism that leads to a checklist of ills including adultery, eating disorders, bullying, sexual exploitation, fame worship, and misguided parental overprotectiveness. In case we miss the point(s), the plummy tones of Emma Thompson's disembodied narration – accompanied by images of the Voyager space probe and Carl Sagan's reflections on the "Pale Blue Dot" photograph – portentously interrupt the action in an effort to introduce philosophical gravitas. Thompson's voice, deliberately or not, also recalls her similar role in "Stranger Than Fiction," a far more thought-provoking examination of the existential crisis and moral values in the digital age.