​'Okja' is some pig
by Greg Carlson | .(JavaScript must be enabled to view this email address) | Cinema | July 19th, 2017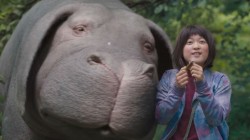 Joon-ho Bong's Okja, currently on Netflix instant watch, competed for the Palme d'Or at the Cannes Film Festival in May, where its premiere -- beset by an early aspect-ratio glitch -- met with jeers and cheers.
Critics have been mostly kind to the movie, although Stephanie Zacharek voiced a strong and well-argued negative opinion. Okja is nowhere near as rich and resonant as career highpoint Mother, but fans of Bong's wild grab-bags TheHost and Snowpiercer aren't going to quibble with the film's blend of extremely broad comedy, unsubtle satire, CGI-abetted action, and heartstring-thrumming melodrama. Nothing can come between a girl and her super-pig.
Thumbing his nose at notions of tonal consistency, Bong knows exactly what he wants, even if the total package never fully comes together. Leading with a meat-is-murder takedown of industrial farming/ranching and capitalist greed that evokes the anthropomorphism and partial plot design of Charlotte's Web, Okja swerves from emotion to emotion and genre to genre, alighting on the countless kiddie stories featuring grown-ups in suits threatening harm to adorable pets.
Title creature Okja is a massive mash-up of solid hippo and floppy-eared, saucer-eyed adorableness. Even if Okja tastes really effing good, who could eat something with such a sweet face?
One of Bong's hallmarks is a nutty range of deliberately directed acting styles. On one end of the spectrum is Seo-hyun Ahn's relatively restrained Mija, the caretaker of Okja, whose stoic determination in the relentless pursuit of her beloved companion's safety keeps the movie grounded.
Farther out is Tilda Swinton, playing twins for the second time in the span of a few months. Her Lucy Mirando and Nancy Mirando, heirs to the multinational corporation looking to engineer meat products for the masses, are no less outre than Hail Caesar! pair Thora Thacker and Thessaly Thacker.
While Paul Dano as the somber leader of the quasi-terrorist Animal Liberation Front and Giancarlo Esposito (underutilized) as Swinton's consigliere keep it relatively under control, Jake Gyllenhaal shakes one up and uncorks as if, according to Bilge Ebiri, "he lost a bet with Swinton."
Arguments over the approach Gyllenhaal takes to the shrill, obnoxious, hyperactive, and grotesque television personality/zoologist Dr. Johnny Wilcox are deeply divided, and Jordan Crucchiola and Kevin Lincoln unpacked the madness in a smart, funny, and highly recommended "Vulture" thread that uses the Wilcox character ("Squealing like an alcoholic teakettle, wearing a child's shorts and a car salesman's mustache…") to critique Bong's social agenda and figure out just what in the hell is going on.
Okja throws so much at the wall that not everything sticks, but Bong's go-for-broke filmmaking gusto and imaginative originality deserve to be seen and savored. Bong conjures eye-popping visuals in both the verdant countryside of Korea and the concrete and steel jungle of New York City.
Cynics will point to the movie's most transparent devices -- slicer and dicer Armond White calls out, among other things, the movie's "concentration camp metaphor and a 'Sophie's Choice' moment for extra maudlin flavor" -- but Bong's stylistic verve, coupled with the film's impressive technical integration of the computer-generated Okja, recommend a look.