​Restored German masterwork showcases acting, camera
by Christopher P. Jacobs | .(JavaScript must be enabled to view this email address) | Cinema | September 6th, 2017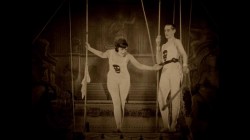 The first Academy Award ceremonies were held in 1929 but covered the 1927-28 movie season that began 90 years ago this month. That first year, the Oscars for Best Actor and Actress and a few others covered two or more films the nominee had made, rather than one specific title.
The very first winner for Best Actor was internationally acclaimed character actor Emil Jannings, a major star in Germany since the 1910s, who happened to be making films for Paramount in Hollywood during the late 1920s.
The films that earned him his award were "The Last Command" (1928, on a fine DVD from Criterion but not yet on Blu-ray) and "The Way of All Flesh" (1927, now a lost film except for a few minutes of key excerpts used in a later compilation of Paramount hits).
Jannings played a wide variety of roles, from comedy to famous historical figures to tragic melodrama. He soon specialized in characters who underwent a humiliating fall from respectability and/or greatness, including F. W. Murnau's "The Last Laugh" (1924), as well as the two films that won him his Oscar. The best-remembered of these roles today, at least among film students, is probably his Professor Rath in Josef von Sternberg's "The Blue Angel" (1930) opposite Marlene Dietrich.
A number of Jannings' German films were imported by Paramount (and re-edited/censored for American audiences) before the studio brought the actor to Hollywood to make films. One of the major titles was "Varieté" (1925), also known in various releases as "Variety," "Vaudeville," or "Jealousy."
Copies of truncated American and British cuts, usually with mediocre picture quality, have been around for decades. Last month Kino-Lorber released a Blu-ray edition of a new 2015 restoration of the original European cut with outstanding picture quality.
"Varieté" is a perfect example of how a talented, innovative German Expressionist director like E. A. Dupont could handle a plot that Hollywood would treat as a simple romantic love-triangle melodrama (two overlapping triangles, in this case) and transform it into an artistic masterpiece of characterization and visual storytelling.
Sensitive performances by Jannings, Lya De Putti, and Warwick Ward are intensified by the powerful cinematography of Karl Freund (who himself would soon have a Hollywood career as both cinematographer and director), and by the film's superb editing.
The story begins with Jannings' character in prison, reluctantly deciding to tell his story to the prison chaplain. Then we learn he had once been a trapeze artist but after an accident wound up running a sleazy carnival sideshow with his wife. When he takes in a homeless young dancer, he soon falls for her, abandons his wife, and heads out for a new career back on the trapeze with her, while she meanwhile falls for their attractive young partner, and sexual tensions build.
Kino's Blu-ray looks excellent, with a crisp sepia-toned image. Adding immensely to the film's impact is a wonderfully evocative and close-fitting orchestra score composed and conducted by students in a class for scoring silent film. A live performance of that Berklee Silent Film Orchestra score was a highlight of the San Francisco Silent Film Festival premiere of the restoration.
The disc also includes a horribly excruciating alternate score with intrusive vocals by a group called "The Tiger Lilies." This is not even worth attempting to listen to unless you're not watching the film, since the lyrics describe and explain the action.
Modest but interesting bonus features include a visual essay analyzing the film and a fascinating behind-the-scenes look at the composition process for the new music score.
A British Blu-ray also includes a restoration of the 72-minute American abridgement, but it's unlikely someone would watch that emasculated version more than once other than for simple comparison to the full uncensored and vastly superior 94-minute version.
Another unexpected bonus item is the complete 1922 feature film "Othello," starring Jannings in the title role, also featuring Lya De Putti.
VARIETÉ on Blu-ray -- Movie: A / Video: A / Audio: A+ / Extras: B
"Othello" (1922) is a very well-mounted and well-acted (if often melodramatic) German adaptation of Shakespeare's classic play of tragic jealousy, obviously a good companion piece to a film released as "Jealousy" in the U.S. This version was directed by Russian expatriate, Dimitry Buchowetsky, and is a good copy of the U.S. release of the film with English intertitles.
Jannings, naturally, has a field day in the title role, with a flamboyant Werner Krauss (best-known for his title character in "The Cabinet of Dr. Caligari") playing Iago. Lya De Putti is Iago's wife and Ica von Lenkeffy plays an attractive and reasonably effective Desdemona.
Rather like a stage production, some major off-stage battle sequences occur off-screen, due to budget limitations, but the film as a whole comes off quite well.
Unfortunately, Kino did not do a new HD scan for the Blu-ray, so this is a standard-definition reissue of their old 2001 DVD version, but on the Blu-ray it is encoded at over double the bitrate of a DVD, so there are no digital artifacts even if the image is soft and DVD-like. Contrast is very good, and there's the same effective Jon Mirsalis piano score that was on the old DVD.
OTHELLO on Blu-ray -- Movie: A- / Video: B / Audio: A- / Extras: F