Schumer Explores the Beauty Myth in "I Feel Pretty"
by Greg Carlson | .(JavaScript must be enabled to view this email address) | Cinema | April 25th, 2018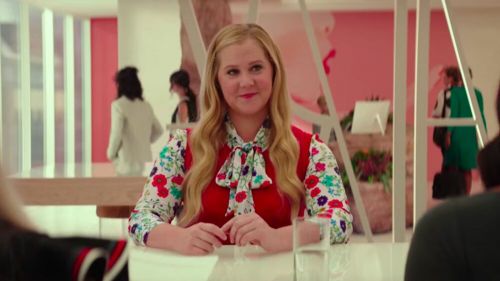 Longtime writing partners Abby Kohn and Marc Silverstein make their joint directorial debut but don't quite get everything right in "I Feel Pretty," an Amy Schumer vehicle that jettisons the hard-R ribaldry of "Trainwreck" and "Snatched" for the potentially wider-appeal territory of PG-13 content. Schumer, who has long been the target of relentless trolls on platforms including Reddit, plays Renee, a woman -- according to the official film website -- "who struggles with feelings of deep insecurity and low self-esteem." A spin class head injury causes Renee to see herself as the impossibly "perfect" supermodel-type unrealistically constructed and perpetuated in mass media imagery.
Jeffrey Wells brought up thematic similarities between "I Feel Pretty" and the 1945 film "The Enchanted Cottage," but it is far more likely that viewers will see parallels to obvious inspirations like "Big" (which is clip-checked in "I Feel Pretty") and "Shallow Hal." Additionally, "I Feel Pretty" uses key aspects of the Cinderella story, from magical transformation to broken spell, as well as a variation on the rags-to-riches aspiration of fantasy wish-fulfillment that drives "Working Girl," "The Devil Wears Prada," and dozens, if not hundreds, of other movies.
As a person who is now "undeniably pretty," Renee's self-confidence empowers her to make all kinds of her own previously out-of-reach dreams come true, including a fast-track professional trajectory at the cosmetics company where she works. Whether or not the film's wobbly screenplay engages in body-shaming, several critics have wondered if "I Feel Pretty" laughs with or laughs at the situations Renee must navigate. The depiction of Renee's relationship with her two best friends (Busy Philipps and Aidy Bryant) is a highlight until Kohn and Silverstein choose to almost entirely ignore the consequences of Renee's increasingly boorish and shitty post-transformation treatment of her pals.
Specifically, "I Feel Pretty" misses that golden opportunity once Renee begins to behave with the entitlement that the traditional moralistic narrative tradition places hand-in-hand with the power bestowed by factors like physical beauty/attractiveness or wealth. As Manohla Dargis points out, Renee's post-concussion attitude "...undermines the character, suggesting that she never was the inherently decent person she seemed to be." Had the movie explored its "lessons learned" component with more seriousness, "I Feel Pretty" might have escaped becoming more like the thing it attempts to critique.
The contradictory messages of the climactic moment don't make a lot of sense. Renee inexplicably semi-hijacks the public launch of her employer's new bargain makeup line in an "everyone is beautiful" speech that somehow forgets the rhetorical function of the product being sold. And the film also never fully comes to grips with the fact that Renee was promoted precisely because she was perceived by her bosses as ordinary. Much safer, albeit just as predictable within the genre, is the wrap-up scene in which Renee reconciles with love interest Rory Scovel.
In defense of Kohn and Silverstein, to the viewer, Renee looks like Renee at all times (which is just one thing that distinguishes the movie from "Shallow Hal"). In a "Vulture" interview, Schumer noted that the dialogue avoids specific indicators that the "new" Renee sees herself, for example, as thinner, even if much of the audience makes that assumption. Schumer also acknowledges the inherent contradictions of her big speech's "Dove soap stuff" -- plugging beauty products with messages of individuality and uplift. In general, that kind of ambiguity and contradiction (see also the wide range of positive and negative takes on the bikini contest scene) fuels genuinely interesting conversation around the film.