​Space oddity: Besson brings "Valerian and Laureline" to the big screen
by Greg Carlson | .(JavaScript must be enabled to view this email address) | Cinema | July 26th, 2017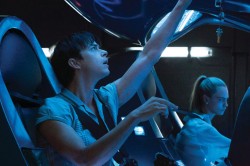 Luc Besson's "Valerian and the City of a Thousand Planets" -- touted as the costliest independent motion picture ever made -- simultaneously melts eyeballs with its gorgeous visuals and narcotizes brains with its stiff dialogue and inert plotting.
That frustrating combination places the movie in the company of countless post-"Star Wars" space operas designed for the big screen, a phenomenon accelerated/exacerbated by the evolution of photorealistic CGI that allows for limitless recombinations of alien species, rainbow-hued nebulae, and more recently, the videogame-esque first-person exploration of virtual reality.
Based on the French comics written by Pierre Christin and illustrated by Jean-Claude Mezieres (who previously worked with Besson on enduring cult item "The Fifth Element"), "Valerian" fails to imagine a title character worthy of our love, attention, or respect.
Dane DeHaan, continuing a performance style evoking a summer stock impression of young Leonardo DiCaprio, may not be as talented or charismatic as that star, but Besson's antiquated chauvinism would be D.O.A. in the mouth of any actor.
DeHaan's Major Valerian, meant to be some kind of cool-handed and roguish ladykiller, partners with Cara Delevingne's thankless Sergeant Laureline, a Girl Friday who -- like the egalitarian name of the original series -- surely deserved to share equal billing with the male lead.
In David Ehrlich's spot-on assessment, the critic asserts that "Valerian" is "so high on its own supply that it makes makes 'Guardians of the Galaxy' look like an Ozu film."
That bon mot may or may not imply that "Guardians" has "Valerian" additionally beat in the category of character development, but Besson's curious filmic treatment of Laureline is certainly the movie's single biggest disappointment. In her essay for "The Atlantic," Gabrielle Bellot appraises the character and her historical importance to science fiction, writing that Laureline is, "Arguably the heart of the comics, she's a remarkably powerful, and believable, feminist figure who still resonates today…"
That version of Laureline gives way to the one Besson concocts: an undervalued subordinate who endures far too much disrespect and harassment from the infuriating "hero."
Given Besson's reputation, the midpoint absence of the film's MacGuffin(s) serves as another indicator of the screenplay's desperate need of polishing. Both the luminescent pearl pocketed by Valerian and the last-of-its-kind, magical armadillo/hedgehog mashup that can replicate said pearl are integrated only when convenient and/or necessary, and their disappearance for long stretches further diminishes a sense of urgency about Valerian and Laureline's mission.
One of those side trips introduces surprisingly sympathetic shapeshifter Bubble (Rihanna), a to-be-looked-at fantasy who models a parade of eroticized costumes including a Sally Bowles ensemble, a latex nurse, a schoolgirl uniform, a maid, and so on.
The fate of Bubble, a cruel bit of unceremonious deletion in the interest of dull streamlining, takes place down a rubbish chute that echoes the famous trash compactor on the Death Star. Her ethereal, otherworldly blue glow amidst the rotting garbage is as good an image as any to summarize Besson's labor of love.
Richard Brody, who called "Valerian" both a "colossal vision of total creation" and a "soulless blip," claimed in the same review that "fantasy is a severe test of artistry."
In essence, Brody's complaint can be distilled to the chorus rising from many of the film's critics: a variation on the style-versus-substance charge that from "Star Wars" and "Blade Runner" to "The Fifth Element" and "Avatar" dogs the good, the bad, and everything between.