​The Hero
by Greg Carlson | .(JavaScript must be enabled to view this email address) | Cinema | March 15th, 2017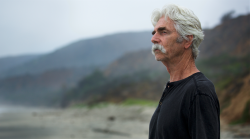 Filmmaker Brett Haley carves out a juicy and glorious victory lap for golden-voiced treasure Sam Elliott in "The Hero," a thematic companion piece to the warm "I'll See You in My Dreams," which gave Blythe Danner a similar showcase. Elliott is Lee Hayden, an imagined version of the actor himself. In his early seventies and paying the bills with commercial voiceover work for Lone Star BBQ sauce ("The perfect partner for your chicken"), Lee spends his considerable downtime getting high with former co-star turned dealer Jeremy (Nick Offerman). An unexpected pancreatic cancer diagnosis pushes Lee to consider his mortality and his legacy, but he cannot bring himself to share his dire news with anyone.
Lee is particularly trepidatious about reaching out to his daughter Lucy (Krysten Ritter), who has kept her father at arm's length following years of distance and absenteeism. Haley and co-scripter Marc Basch imply that, at least in part, Lee's choice of career took its toll on his closest relationships. In a nice casting touch, Elliott's spouse of more than three decades, the great Katharine Ross, plays Lucy's mother/Lee's ex. "I'll See You in My Dreams" was fully female-centric, and Haley continues to rely on vivid women in "The Hero." Lee begins a tentative romance with flinty stand-up comic Charlotte (Laura Prepon), and the movie deals directly with the significant age gap between the two.
Concerns over the familiarity of that particular device have been voiced. Jon Frosch cited "The Verdict," "Tender Mercies," "The Wrestler," and "Crazy Heart" in his review, and you could add "Lost in Translation" and many more to the list. But Haley and Basch avoid most of the cliches by shifting smoothly between the likely and the unlikely adventures of the pair -- "The Hero" is, on one level, a fantasy of Hollywood, after all. Both a drug-fueled date that leads to an offbeat acceptance speech during a ceremony honoring Lee with a lifetime achievement and the fallout from some of the more pointed jokes performed by Charlotte at Lee's expense are made fresh by the skillful and genuine verisimilitude of Elliott and Prepon.
Haley's measured pace contradicts the more commonly utilized haste of dramatic comedies, but "The Hero" unfolds with total confidence in its star. Eric Kohn pointed out that "the [lead] character's name... is an amalgam of Lee Marvin and Sterling Hayden -- both of whom epitomize the male swagger of a different era and the dwindling opportunities for such faces as years go by." Lee's signature role, which gives the film its title, was performed some four decades past, and the actor suggests it is the only work he is genuinely proud to claim. Lee is also haunted in a series of dream sequences that evoke some old-fashioned cowboy movies, with a dash of Leone mixed in for good measure.
Elliott appears in practically every frame of "The Hero," and he is so good, you'll make plans to revisit some of his signature turns (not that you need an excuse to dial up "The Big Lebowski" for the umpteenth time). Elliott's comfort and ease with his own image allows Haley to mine more humor than anticipated in a movie built on the worst possible health news one could receive, but "The Hero" is capable of having it both ways. Elliott is magnificent in a pair of mirrored audition scenes that alternately command laughter and tears. Here's hoping the man, the myth and the mustache will be making movies for years to come.
The Fargo Film Festival will present a special screening of "The Hero" on Friday, March 24 at 7:00 p.m. at the Fargo Theatre. Producers Erik Rommesmo and Jeff Schlossman will participate in a Q & A following the movie.
IF YOU GO:
FFF screening of The Hero, with a Q&A with producers Erik Rommesmo and Jeff Schlossman
Friday, March 24, 7pm
Fargo Theatre, 314 N Broadway