​The lure of the mummy continues
by Christopher P. Jacobs | .(JavaScript must be enabled to view this email address) | Cinema | June 28th, 2017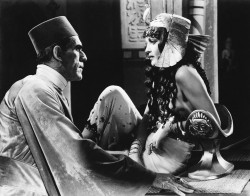 Ancient Egyptian mummies have held a fascination for filmmakers and moviegoers for more than a century. Amazingly, over two dozen movies with mummy themes were produced between 1903 and 1919, most of which are now lost films.
The 1920s saw a few more mummy pictures, but the most famous mummy movie, Universal's classic that started the still-ongoing cycle of reboots and remakes, premiered in December 1932. Universal's first reboot came in 1940, followed by three sequels over the next four years plus a comedy variation a decade after that. (All six of these films were recently restored and released on Blu-ray last month as "The Mummy: The Complete Legacy Collection.")
Several random cartoons, shorts, comedies, and serials from various studios also incorporated mummies through the 1930s and 40s. In the 1950s came an above-average series of British mummy movies from Hammer for about 20 years, with scattered unrelated mummy horror films of varying quality through the 1990s (several of which are on Blu-ray).
Universal gave a big-budget reboot to its franchise in 1999, with a sequel, a semi-sequel, and a few spinoffs over the next decade (all of which are now on Blu-ray). Then last year they started on a completely reimagined mummy reboot, which arrived in theatres earlier this month.
The new $125 million Tom Cruise version of "The Mummy" (2017) is not nearly as bad as many reviews and online viewer comments have been claiming. On the other hand, it is not nearly as good as it should have been or could have been, given its budget and star power.
Audience interest and disappointment are demonstrated in the film's weekly box office performance according to boxofficemojo.com, opening at number two behind "Wonder Woman" in its second week at number one, and ticket sales dropping 53% to number five for its second week while "Wonder Woman" dropped only 31% to number two in its third week behind the opening week of "Cars 3." The third weekend of "The Mummy" showed another substantial drop of about 60% to the number six position while "Wonder Woman" fell only 39% to number three.
This latest incarnation of "The Mummy" is marginally above average as major studio summer blockbuster adventures go. A few interesting ideas quickly develop into an action-packed fantasy-adventure with heavy doses of comedy, especially dark comedy. It might easily have been a major popular if not critical success with just a little more attention to its characterizations and some of the intriguing plot points it introduces.
These, however, the film quickly pushes into the background in favor of too many (and too-long) extended action and CGI sequences. And unlike most previous mummy movies, it makes little attempt at any sort of historical/archaeological accuracy or consistency (e.g., the mysterious un-Egyptian rune-like symbols covering the body of the resurrected Princess Ahmanet). Not to mention the crazy concept of writing Dr. Jekyll and Mr. Hyde into the plot (I'm not kidding!), or the feeling that more often than not it really wants to be just another zombie movie, but with a secret society of self-appointed protectors of humanity. Even the 3-D (post-converted, not original 3-D camerawork) is mediocre with no notable exploitation of depth effects.
"The Mummy" (2017) may be worth a bargain-Tuesday $5 theatre admission or a $7 bargain-bin Blu-ray, but sadly does not approach the entertainment value of any of its predecessors. We'll see if any future sequels are any better and how well they fit together in a planned crossover "universe" of updated Universal Pictures monster franchises.
"The Mummy" (1999) is probably the gold standard for modern variations on the mummy genre. Although it takes an entirely different approach from the 1932 classic or the fun 1940s sequels, after 18 years this reimagining of Universal's mummy franchise remains as entertaining as ever, even though its basic plot owes as much or more to the 1969 western "MacKenna's Gold" and the "Amelia Peabody" book series of Egyptological mysteries as it does to older mummy movies.
It balances action, adventure, comedy, and romance with expert timing, aided greatly by the effective on-screen chemistry among the entire cast (mostly lacking in the 2017 film).
"The Mummy Returns" (2001) is almost but not quite as fun as the 1999 film. It takes what people liked best about that one and does more of it. It also takes less time or care with character development but makes up for that with its enthusiastic cast and by throwing in additional off-the-wall, almost fairy-tale fantasy adventure.
Some nice touches follow up things planted in the previous film, though a few weird additions seem rather contrived.
The third in this trilogy, "The Mummy: Tomb of the Dragon Emperor" (2008) doesn't really count as a mummy movie, as the plot moves to China with an ancient emperor whose spirit is trapped in terra-cotta statues. The replacement of Rachel Weisz with Maria Bello as Brendan Fraser's wife/partner also detracts from the character dynamics, although it's still better than the 2017 "Mummy."
Going back to Universal's first batch of mummy movies, the beautiful restorations in the new Blu-ray box set let us enjoy all six films looking as crisp and clear as when they were originally shown in theatres sixty-two to eighty-five years ago.
"The Mummy" (1932), starring Boris Karloff, is easily the best of these and all the later mummy movies. Its atmospheric ambiance capitalized on popular interest in Egypt only a decade after the discovery of Tutankhamun's tomb. The plot was loosely based on the hit "Dracula" (1931) but introduced the element of tragic romance spanning 3000 years and the reincarnation of a lost love.
Movie: A / Video: A+ / Audio: A / Extras: A-
"The Mummy's Hand" (1940) is an enjoyable reboot of the series, though without quite the moody and authentic-feeling atmosphere of the original. It changed the mummy into a being controlled by a high-priest with life-giving Tana leaves
Movie: B+ / Video: A+ / Audio: A / Extras: D
"The Mummy's Tomb" (1942) is a decent follow-up, set 30 years later in a Massachusetts college town, some parts better, others not quite so good.
Movie: B / Video: A+ / Audio: A / Extras: D
"The Mummy's Ghost" (1944) provides additional interesting twists on the mythology and reincarnation angle involving a history student's Egyptian girlfriend.
Movie: B / Video: A+ / Audio: A / Extras: D
"The Mummy's Curse" (1944) also has interesting variations, oddly now moved to Louisiana bayou country.
Movie: B / Video: A+ / Audio: A / Extras: D
"Abbott and Costello Meet the Mummy" (1955) is a lighthearted sendup of the series, a fun mummy mystery, and a pretty good Abbott & Costello comedy pitting them against unscrupulous antiquities dealers and a fanatic ancient Egyptian cult.
Movie: B / Video: A / Audio: A / Extras: D
All six run between 60 and 80 minutes each, so they lend themselves to double or triple-features or a whole day of mummy watching. "The Mummy" has a very good selection of bonus features including documentaries and two audio commentaries, but the others have only a trailer.
Live Movies in July at MSUM
Minnesota State University-Moorhead's annual Summer Cinema series will run Monday nights in July for four weeks, starting July 10th. Each week will feature a variety of silent comedy shorts from the likes of Charlie Chaplin, Buster Keaton, Harold Lloyd, and Harry Langdon, plus a western feature July 17th. All will have live musical accompaniment by members of the Red River Chapter of the American Theatre Organ Society on the "Mighty Wurlitzer" pipe organ in Weld Hall's Glassrud auditorium. Each program will be introduced by a film expert from the area. July 10 will be Janet Haak, July 17 will be Matt Olien, July 24 will be Dr. Anthony Adah, and July 31 will be HPR's own Christopher Jacobs. Shows begin at 7:30 pm. Admission is $4.