​The mission of Art Phillips
by Greg Carlson | .(JavaScript must be enabled to view this email address) | Cinema | November 15th, 2017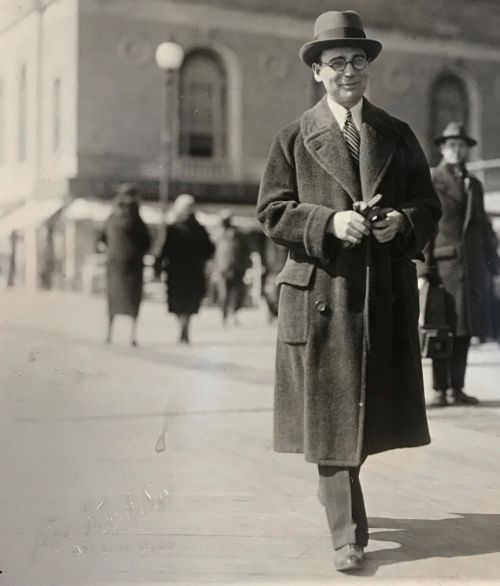 On Tuesday, November 14 at 7pm, the Fargo Theatre hosted a screening of "The Mission of Herman Stern," a feature-length documentary chronicling the remarkable humanitarian efforts of the North Dakota businessman and founder, in 1924, of the Greater North Dakota Association.
Beyond his economic entrepreneurship and civic engagement, Herman Stern helped bring 125 German Jews to the United States, and that remarkable story resides at the heart of Art Phillips's new movie.
HPR film editor Greg Carlson talked to director Art Phillips about the making of the film.
HPR: How did "The Mission of Herman Stern" get started as a feature documentary project?
Art Phillips: I first heard about Herman Stern's rescue of 125 people from Nazi Germany when he received the North Dakota Theodore Roosevelt Rough Rider award from Governor Jack Dalrymple in 2014.
I knew some of Herman's accomplishments as a North Dakota business leader, but I didn't know that he saved people halfway across the world from the Holocaust. This was a North Dakota hero story that needed to be told.
HPR: Along the way, how many interviews did you conduct for the show?
AP: The documentary contains nine interviews, including three people who were saved when they were children and one interview with a man whose family was saved. He was born after they came to America. The story blends current interviews with archival footage and primary source documentation.
HPR: How long have you worked with co-producer/writer Carl Oberholtzer?
AP: I first worked with Carl on "The Road to Little Rock" documentary, which was released in 2013. This was the story of how North Dakota Judge Ronald Davies ruling in 1957 in Little Rock, Arkansas provided great urgency for the desegregation of public schools and the course of civil rights in America.
Carl is a former North Dakota high school history teacher and currently an education instructor at MSUM and NDSU. He has numerous awards and honors including the Gilder-Lehrman Preserve America North Dakota Teacher of the Year in 2006 as well as the U.S. Presidential Scholar Awards Program Teacher Recognition in 2003.
We work extremely well together because we both agree that these documentaries teach lifelong lessons to not only students but to also to adults. Carl was involved in the script process and reviewed the rough cuts during the editing process. We worked on the research together for the last two years.
HPR: Were the educational lesson plans developed simultaneously with the documentary?
AP: The educational component of the production was there at the very beginning. We wanted this documentary to have an accompanying lesson plan for North Dakota high schools that was similar to "The Road to Little Rock" educational project. Both the documentary and lesson plan were being produced at the same time.
HPR: You drew on a substantial collection of resources for historical records, both near and far.
AP: We used a number of resources for the documentary from all over the country including photographs and film footage from the Stern family, letters from people in Germany to Herman Stern, which we had to translate, writing about their situation back home and archival footage of Germany during this time.
We are not only telling Herman Stern's story of rescuing 125 refugees, but we are also telling the story of what was going on in the world at this time. This was very important because we needed to tell the story of not only how hard it was getting people out of Germany, but also how hard it was to get people into a country at that time.
HPR: Have you always been a student of history?
AP: I have always loved history, especially when I was in high school. And I really love historical movies about people that made a difference. That is what drew me to Herman Stern's story.
Here was a man in Valley City, North Dakota who not only was running a business (Straus Clothing), he helped start organizations in his community and state, including the Greater North Dakota Chamber, United Way, Boy Scouts, and the Valley City Winter Show -- and also recused 125 people from Nazi Germany. It is an amazing story that shows character, leadership, empathy, citizenship and selflessness.
HPR: Congratulations on the movie and your continued accomplishments.
AP: It was a real honor to work on this project and it has been life-changing for me. Herman Stern shows us that just one person can make a difference in other people's lives. It was such a privilege to get to know and interview the people that were rescued by Herman Stern. I plan to keep it touch with them for years to come.