​The Safdie Brothers serve up a 'Good Time' in gritty thriller
by Greg Carlson | .(JavaScript must be enabled to view this email address) | Cinema | September 1st, 2017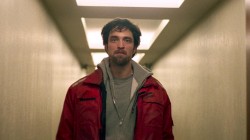 Joshua and Ben Safdie, the NYC brothers whose independent spirit draws from a wide range of cinematic sources, reach their widest audience yet with "Good Time," a frantic thriller that aspires to 1970s-era Big Apple grit.
Martin Scorsese is the first name on the end credit thank-you list, and "Good Time" will remind some viewers of "Mean Streets" and "Taxi Driver." Multiple comparisons have also been made to "Dog Day Afternoon," and the Safdie's love-it-or-leave-it sense of manufactured urgency also owes a huge debt to the twitchy rhythms of Elaine May's "Mikey and Nicky."
As Connie Nikas, a luckless bank robber fiercely loyal to his hearing-impaired and special needs brother, Robert Pattinson constructs an electrifying performance. Ben (Benny) Safdie plays the sibling, and while their relationship dynamic echoes "Of Mice and Men," the Safdies take care to humanize the character of Nick. Despite leaving a number of critics unconvinced, Nick's disabilities function as a thematic undercurrent alluding to conditions of suffering and abuse that account for (if not justify) the Nikas brothers' desperation and willingness to break the law.
Like Larry Clark, the Safdies have a deep affinity for casting memorable and unconventional faces in a wide variety of roles both large and small. While it is difficult to disguise the model contours of Pattinson's Dior Homme good looks, several performers -- including Barkhad Abdi as a wrong-place-wrong-time security guard and "Heaven Knows What" alum Buddy Duress as Ray, a perfect comic foil to Connie -- lock in with just the right amounts of outsider status.
The use of a number of non-actors also abets the neon-lit nightscapes captured by veteran director of photography/weapon of choice Sean Price Williams, who earns MVP honors along with composer Daniel Lopatin/Oneohtrix Point Never.
The treatment of the female characters emerges quickly and emphatically as the movie's most glaring flaw. With virtually no substantive interaction between two women at any point in the narrative, the depictions that remain stumble over a minefield of longstanding cliches.
Benedict Seal nails the evidence, writing, "Oft lamented but ultimately given little screen time, female maternal figures are demonized and presented as hysterical, abusive burdens."
In some ways, it's a step backward from the female-centered "The Pleasure of Being Robbed" and "Heaven Knows What." Who knows how the brothers will handle gender dynamics in their upcoming "Uncut Gems," but with Jonah Hill in the lead and Scorsese as a producer, the forecast calls for plenty of men talking to and interacting with other men.
While an underutilized Jennifer Jason Leigh fits squarely into the crosshairs of Seal's charge, the film's lone exception is Taliah Webster's Crystal. A self-assured teenager whose accidental meeting with Connie suffuses the hypermasculine, adrenalized trajectory with a surprise turn toward something calmer, quieter, and softer, Crystal initiates one of the movie's most interesting and inviting sequences. Her presence is an absolute gift to the plot, and she is immediately missed following the conclusion of her story.
There is nothing inherently wrong, of course, with a tale of fraternal bonds, and the way in which the Safdies never lose sight of Connie's obsessive and relentless quest to reunite with Nick is arguably the film's raison d'etre.
One of the pleasures of "Good Time" is that the experience delivers exactly that; the filmmakers take their lovable losers seriously, but not too seriously. The result is an adventure that deftly balances pathos with comedy.