Theatre B brings Orwell's fictional future to life
by Paige Johnson | .(JavaScript must be enabled to view this email address) | Cinema | October 17th, 2017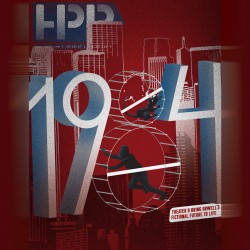 In 1948, George Orwell predicted a dystopian future in his pinnacle work '1984.'
Orwell died before he could see if the future was plagued by unending war, a totalitarian government and rigorous loyalty rituals as he'd predicted.
While 1984 may not have seen Orwell's imagination reach fruition, for many, 2017 is the new 1984.
In the first show of their 15th season and in their new space, Moorhead-based theatre company Theatre B is bringing Orwell's fictional future to the stage in the Michael Gene Sullivan adaptation of '1984.'
Sullivan's adaptation focuses on the interrogation of the main character, Winston Smith. After Winston has been captured by the Thought Police, Party Members make him relive his treachery through memory and play-acting. Slowly, Winston's entire story becomes unraveled until Big Brother eventually forces him to undermine his own thoughts and memories.
Despite the nearly 50-year gap between its original publication and Sullivan's adaptation and Theatre B's staging, '1984' is still relevant.
"I think it's fascinating that Orwell is writing primarily in response to fascism in World War II, but his observations are still apt," said Carrie Wintersteen, executive director of Theatre B.
"When someone controls the media, information, then you can't tell what's absolutely true. This story highlights that. I think that's one of the huge things Orwell was getting at. He also talks so much about language. The importance of language, the importance of vocabulary, the notion that he who controls the past controls the future. He who controls the past controls the present and therefore controls the future. That's something Winston is really struggling with. What leads him to rebel is that he works in a government agency that is charged with redacting truth from the past so that they are more convenient for the present population to believe."
One of Theatre B's values is "thought-provoking art as inspiration for social action," and '1984' provides that in spades. However, the selection of this play wasn't as obvious as it may seem.
As they were beginning their latest season without a clear sense of where they would be housed, Theatre B wanted a recognizable title as their first show, yet they wanted to maintain their tradition of providing thought-provoking, relatively unknown plays to the region.
Originally, Theatre B wanted to stage a different adaptation of '1984'; however, it was about to open on Broadway and they weren't able to get the rights. That's when they found Sullivan's adaptation, and decided his was the play for them.
Initially, their request for rights was rejected. Wintersteen continued to pursue the play, contacting the law firm that represented the Orwell estate and even the playwright himself to gain better traction in her argument that Theatre B should be able to perform '1984.'
"I was able to make the argument that we met the criteria," said Wintersteen. "I sent [the law firm] a screenshot of the requirements page and a screenshot of the Schubert Foundation, which only funds professional theatre organizations. We've been founded by the Schubert Foundation for the last three years. She wrote back and said yes, you can have the rights. It was really crazy and very late when we finally got it, but we were really excited about it."
Sullivan's adaptation is on a much smaller scale than the Broadway adaptation: the set isn't elaborate, there aren't many props and there are only five actors. However, through interesting lighting, sound and the actors themselves, the scene transforms itself from a black box theatre to an interrogation cell.
"The actors are creating these different environments," Wintersteen explained. "No one ever leaves the cell, but when they leave the cell in Winston's diary they create the places he's been with their own bodies and voices."
She continued, "David [Wintersteen; director of '1984'] found it very challenging because just the words on the page don't necessarily tell you what's happening physically between these characters, what their relationships are. Those were definitely some challenges. I know that David did have some conversation with the playwright regarding the concept that he was working with. One to make it more interesting to watch, not just lots of reporting that's happened in the past. That it's a reflective point of view. That acting out scenes, kind of teaching them, creating space with white and body positions and sounds has really added quite a lot to it."
While Winston is the focus of the book and of the play, the background Party Members interrogating him become folded into the conversation about the government and treachery.
"Over time they're acting out these scenes and they become more and more uncomfortable with having to act out his treason, his treachery," Wintersteen said. "They begin to wonder if, in fact, they aren't also being observed for their own loyalty and judged for that. They get caught up in this sense of doing what they're told but not wanting to do what they're told. In that way, Michael Gene Sullivan is commenting on all kinds of aspects of this sort of police state that Orwell has created. In a police state, how do you ever know if you are behaving in the way you are supposed to be behaving? Because everyone can be a spy."
Compared to the rest of their season, Wintersteen said '1984' is definitely darker and less comedic – although she mentioned that laughter may not be missing from the production.
"I started laughing a bitter kind of laughter in recognition," she said. "The fact that the actors are doing such a great job with their characters, because the characters truly believe what they're doing. It's absurd laugher."
While Orwell may not have envisioned exactly where we are today, it's hard to deny the author may be speaking to us from the past in his novel, and now through the theatrical adaptation of his work.
"I think (the audience) is going to get a really high-quality production," Wintersteen said. "The whole thing pulls together really nicely. The actors are doing a really great job. The space itself feels really good. It's a nice space to be in. It's easy to see things, it's easy to hear things. The lighting is interesting, sound design compelling, costumes great, help create the world of the play well. The whole package is quite interesting and it's certainly going to leave people with a lot to think and talk about."
'1984' not only marks the opening of Theatre B's newest season, but also the beginning of their time in Moorhead, Minnesota.
In July, Theatre B announced that they were leaving their longtime location of Fargo and hopping the river into Moorhead.
The move was primarily motivated by rising rent prices in downtown Fargo, where Theatre B has been since 2003. However, the move also indicates a physical and financial growth for the rising local theatre company.
The space is bigger than their intimate Main Ave. space (where they were located for the majority of their existence), with an acting space, offices for administration and room to grow into a larger arts building. They'll now also be able to apply for Minnesota art grants.
Theatre B also hopes to revitalize the downtown Moorhead arts community with the move.
"I've always been amazed that there is no venue in Moorhead that's not on a school campus," Carrie Wintersteen said in a press release in July. "It's ironic that we have ended up in a former school, but the venue will be primarily for established artists, not necessarily for arts education. That could open up funding possibilities for the whole arts community, not just Theatre B."
IF YOU GO
Theatre B's '1984'
Oct 12 – 28 at 7:30pm; Oct 15 and 22 at 2pm
Theatre B, 215 10th St. N., Moorhead
Ticket information: theatreb.org