​"Tulip Fever" Wants to Bloom
by Greg Carlson | .(JavaScript must be enabled to view this email address) | Cinema | September 13th, 2017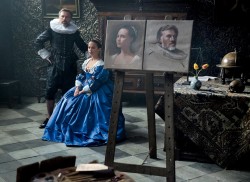 The snaky production history of the long delayed "Tulip Fever," detailed most thoroughly in a "Telegraph" article by Adam White, proves more intriguing than the final version of the movie. Wilting in cinemas during a particularly painful Labor Day weekend, the arrestingly photographed period melodrama was at one time expected to attract award season accolades under the careful orchestration of Harvey Weinstein, apparently looking to duplicate some of his "Shakespeare in Love" success. Instead, Justin Chadwick's film is a disheveled curiosity -- a bad movie that still manages to push a few buttons and convey some guilty pleasures.
Based on the novel by Deborah Moggach, who co-wrote the screen adaptation with Tom Stoppard, "Tulip Fever" uses the 17th century Dutch phenomenon of bulb speculation as a framework for a story of adultery and seemingly doomed romance, complete with mistaken identities, a conniving abbess, naval impressment, and a pregnancy switcheroo that topples the whole works into a laughable jumble that at times borders on self-parody. One can only imagine the scenes left on the cutting room floor, including those featuring Cara Delevingne, Matthew Morrison, and Kevin McKidd.
Alicia Vikander is orphan Sophia, the young wife selected to provide an heir to peppercorn king Cornelis Sandvoort (Christoph Waltz). Trapped by her matrimonial bonds and irksome sexual chores, Sophia's eyes light up when hungry artist Jan van Loos (Dane DeHaan) is commissioned by Cornelis to paint a family portrait. Before you can say "red ochre," Sophia and Jan start a clandestine affair complicated when servant Maria (Holliday Grainger), who also narrates, discovers the deception. Maria, deeply in love with fishmonger William (Jack O'Connell), has some monumental troubles of her own, and Chadwick labors to keep all the wobbling plates spinning.
Had the promotional campaign of the movie embraced the comic instead of the tragic, "Tulip Fever" might have been more warmly received by critics and viewers. The film's supremely silly, credulity-stretching artifices yield plenty of deliberate laughs, from Tom Hollander's playful obstetrics quack to Waltz's entreaties to command his little soldier to conjugal attention. But there are unintended guffaws as well. The ridiculousness finally collapses under the weight of a curiously cast Zach Galifianakis. In defiance of all common sense, his dipsomaniac Gerrit is perplexingly entrusted with a plot-turning task of grave importance -- the outcome of which is so immediately obvious it inspires groans of derision.
White summarizes the consensus opinion, noting that "Tulip Fever" has "been met with significant disdain, critics referencing clumsy edits, nonsensical plotting based almost entirely on coincidences and contrived leaps of logic, and the feel of a film cut to shreds in an editing room at the behest of worried producers." Despite the accuracy of these assertions, "Tulip Fever" works up a bit of sweaty charm through a combination of the gorgeously imagined costumes by Michael O'Connor and production design by Simon Elliott, and the fantasy projections of cinephiles who will speculate on the "Tulip Fever" that never was: a proposed 2004 John Madden-helmed version starring Keira Knightley as Sophia, Jude Law as Jan, and Jim Broadbent as Cornelis.