​Westerns defying stereotypes, new to Blu-ray
by Christopher P. Jacobs | .(JavaScript must be enabled to view this email address) | Cinema | May 3rd, 2017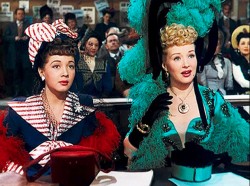 Westerns are no longer as prominent among movie release schedules as they used to be, but for over half a century they ranked among the most popular genres in America's theatres, with various western subgenres. The form gradually faded away during the 1960s and 1970s as "revisionist" westerns replaced the classic formulas that were soon appropriated by modern police stories and then science-fiction sagas.
For the past generation, movie westerns (with a few exceptions) have tended to be just another form of historical drama, rather than yet another variation on standard formulas.
Part of the reason seems due to a feeling that the prevailing western formulas perpetuated an unrealistic view of positive American values, always overcoming any sort of threats to public and personal well-being, a mythic past that never existed, and attitudes that promoted negative stereotypes (especially regarding race, gender, and violence).
It's true that many vintage westerns ground out by studios to fill public demand (especially those from studios that specialized in the genre) followed simple formulas of good vs. evil and often reinforced assumed stereotypes.
On the other hand, westerns were such sure-fire moneymakers that more than a few filmmakers used the genre at the height of its popularity to subvert stereotypes, incorporating characters and situations that challenged audience preconceptions.
Two major-studio westerns from 1949 and 1950 demonstrate almost diametrically opposite approaches to help shift public attitudes, one a spirited screwball comedy and the other a serious fictionalization of an actual historical event. Both are on Blu-ray from Kino Lorber, one released last November and the other last month.
"The Beautiful Blonde from Bashful Bend" (1949) is noted comedy writer-director Preston Sturges' witty satire of the western and its stereotypes. He'd already taken on the Hollywood system with "Sullivan's Travels" (1941), war heroics with "Hail the Conquering Hero" and "Miracle of Morgan's Creek" (both 1944), and marital relationships with "The Palm Beach Story" (1942).
While not quite up to those classics, "Beautiful Blonde" does a great job skewering stereotypes and undercutting popular expectations while telling a funny, if sometimes downright silly story.
As usual, Sturges delights in pushing the edges of what the Production Code censors would approve in his rapid-fire dialogue and bawdy implications. His playing around with sexual, racial, ethnic, and social attitudes, not to mention the central theme of gun violence, would likely incite complaints even from today's politically-correct watchdogs.
Yet he's actually poking fun at sexist, racist, and knee-jerk violent reactions in an only slightly less-crazy way than Mel Brooks did a quarter-century later in "Blazing Saddles" and reverses gender stereotypes by having two strong (and aggressive) female leads.
Sturges' eponymous protagonist Winifred "Freddie" Jones ( Betty Grable), is a crack-shot dancehall entertainer and gambler. When she sees her two-timing boyfriend (Cesar Romero) go up to a room with a French floozy, she goes after him with her gun but accidentally shoots a judge in the rear end. Then she hops a train with her Mexican dancehall girlfriend Conchita (Olga San Juan), who has violently waylaid and stolen the luggage of a demure Swedish schoolteacher named Hilda Swandumper and her Indian assistant to serve as their disguises.
Conchita reassures Freddie, "All Swedes look alike." She also has several snappy comebacks to various leering men who see her Indian costume and come on to her in clumsy pidgin English, and later has a lively argument with Romero in their native Spanish. Freddie explains to onlookers "she's only half Indian," and Conchita confirms "I'm not pure."
The plot continues to unfold as Freddie takes the place of the real schoolteacher and comes up with ways of dealing with various challenges by the local townspeople, rowdy students, and a naïve, mild-mannered mine owner (Rudy Vallee, parodying his own image). Of course she's eventually found out during the film's climax, leading to a somewhat predictable conclusion but with a few twists.
Kino's Blu-ray has an impressively sharp, colorful HD transfer, although some scenes are slightly yellowish and/or pale compared to the majority. Sound quality is very good. The only bonus features are trailers to four other films, one of which stars Betty Grable.
THE BEAUTIFUL BLONDE FROM BASHFUL BEND on Blu-ray -- Movie: A- / Video: A- / Audio: A / Extras: D
About the time "Beautiful Blonde…" was released, Delmer Daves' distinctly more serious "Broken Arrow" was going into production, starring James Stewart as historical figure Tom Jeffords, who befriended Apache chief Cochise and managed to arrange an equitable peace treaty with the U.S. Government.
This straightforward dramatic treatment of overt racism on both sides reached theatres in mid-1950 and became a major hit, earning Oscar nominations for its sensitive screenplay, for Jeff Chandler's performance as Cochise, and for its beautiful Technicolor cinematography.
A number of major silent films such as "The Vanishing American" and "Redskin" dealt with unfair treatment of Indians by the government and especially by its appointed agents, but "Broken Arrow" is one of the earliest sound films to portray Native American culture sympathetically.
Few if any films had ever encouraged audiences to root for the Apaches against the Union soldiers in a major battle scene.
Not only does Jeffords try to mediate between hostile Arizona townspeople and suspicious tribesmen, but he falls in love with an Apache girl (Debra Paget) who chooses him to dance with at her coming-of-age ceremony, and he goes through the traditional engagement-marriage rituals to make her his wife.
Except for the key speaking roles, most of the Apaches are played by native American actors, with Jay Silverheels as Geronimo.
Picture quality on Kino's Blu-ray is outstanding, with a crisp film-like image and rich color. Audio is also good. Bonus features include two very brief newsreels related to the film, a trailer, plus trailers to three other films in Kino's library that feature James Stewart, Jeff Chandler, or Debra Paget.
BROKEN ARROW on Blu-ray -- Movie: A / Video: A+ / Audio: A / Extras: D+