​25 years with The Big Wu
by Logan Macrae | .(JavaScript must be enabled to view this email address) | Music | April 12th, 2017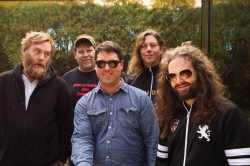 I recently sat down with Terry VanDewalker of The Big Wu. One of the original members, and a good friend of mine. He had great insight into their history, and how they made it to 25. He's now a husband and a father of three. His entire adult life has been comprised of playing with The Big Wu, something he never would have imagined when he was 18.
Now, 25 years later, a celebration of the music, and the people of The Big Wu, is coming to The Sanctuary Event Center.
Not a lot of bands survive 25 years. Completing this milestone was not expected when The Big Wu originally emerged from a quaint college town in Minnesota. Terry recalls being an eighteen-year-old sitting behind his drum kit in what the locals call "The Rueb." "I had a 6-pack of Busch lite, and we were playing Green Onions by Booker T. & the M.G.'s…. I made 25 dollars that night, but I remember thinking…I could do this." It turns out he could.
The Big Wu have toured both nationally and internationally, playing as far north as Alaska, and even down to the Caribbean nation of Jamaica, where Terry spent a very "memorable" 33rd birthday.
Recently music students created a documentary celebrating the anniversary. They applied multiple times for a legacy grant from the State of Minnesota. They were successful their second try and the documentary was born.
Terry was impressed. "These kids should be an example of how a grant should work." They were far from lazy. Obviously, there is a large amount of audio content from shows, but the difficulty comes from the multiple mediums of video used in this period. From VHS to Hi-8, the students worked with a plethora of video formats and quality.
The result was melancholy. "Imagine having your whole life from 18-42 encapsulated into 140 minutes." It was jarring, and there were things missing, but it was a good representation of the timeline. It was released last April at McNally Smith in St. Paul, wrapping up a six-year project.
The band isn't done creating yet, and they are pushing on to a 30-year anniversary. They will soon be releasing two new albums. One will be an anniversary album with the best archived live performances and another with new content. One, notably, is a song written by Rob Hunter, who wrote lyrics for Jerry Garcia. Terry is excited about this track, entitled "Kick in the Head." The New Riders of the Purple Sage previously recorded it with the same lyrics, but according to Terry and others, The Big Wu does it better.
As a career matures, you attract more attention. Terry described this process of collaboration. "It's all about the degrees of separation. The closer you can get to playing with someone who has played with the greats the more successful you feel."
Recently they played with Peter Rowan, an American bluegrass player who has played with the best. Terry explained that he just stepped in, and they've played his tunes for years. "He didn't even need to adjust. We just played it the way he would. It was a powerful experience." Peter will be joining the band in Minneapolis on April 14 at First Ave, but unfortunately won't be making it to Fargo for the April 15 show.
All original members will be present on April 15. They have lost some along the way. Jason, one of the original members, just had to go, and Terry explained how hard it was. "He's my brother." They share the same birthday, and they shared the same stage for many years. As Terry stated, "Band members come and go, but bands don't quit."
A surprise for fans came this year when The Big Wu family reunion moved from its usual location in Minnesota to The Mishawaka Amphitheatre in Bellvue, Colorado. It was difficult, but one of the band members, Mark Joseph Grundhoefer, was the primary organizer of the event with his company, MJG Productions.
It was a lot of work. The band has always been dedicated to production values, and the move, along with a new partnership with Legit Production Company, will guarantee that they will be seen and heard properly, and that everyone will be able to enjoy the band, either in the pit or in the campground.
If you have been a fan of The Big Wu in the past or are looking to experience a not-so-familiar genre. I urge you to grab a ticket to the anniversary concert. If anything, it will be an experience. The Big Wu love to party and have fun. They have been a part of my life for over 10 years, and I'll surely be there singing along.
IF YOU GO
The Big Wu 25th Anniversary celebration
Saturday, April 15, 8pm
Sanctuary Events Center, 670 4th Ave N, Fargo