​An Anomic explosion at the Aquarium
by John Showalter | .(JavaScript must be enabled to view this email address) | Music | January 26th, 2018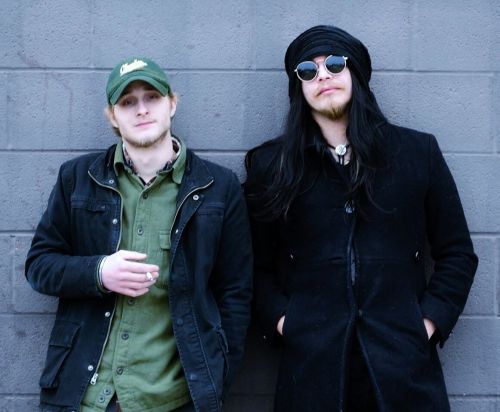 I recently had the opportunity to sit down with Anomic at Atomic Coffee (they insisted I put that wordplay in the article). Anomic are a two-person band comprised of two pretty swell guys named Jay Stevenson, who provides vocals and guitar, and Rick Tullar, who plays the drums.
Even though there are only two of them, Jay and Rick make Anomic's sound big enough that you would think there were at least three or four people onstage. They were more than happy to tell me about their upcoming show at the Aquarium and the happenings of the band.
Jay and Rick have known each other since around 2009 and been jamming together ever since 2010, but the "official" genesis of Anomic didn't happen until 2014, when Rick turned 21. Since Rick was finally old enough to drink, and by extension perform at bars, Jay went right over to his place and asked him to officially join the band, and the rest is history.
Since 2014, the duo have gone on to record two self-released albums and an EP and are working on their third. They regularly offer their five-track EP Songs from The Vortex for free to people who attend their shows.
2018 has brought a "new year, new music," in the words of Jay, as well as, "a new song about drinking." At their upcoming Aquarium outing, they plan to perform three to five new songs that have not seen live performance.
"We have new drumheads!" Rick added excitedly (they'll be getting quite a workout). The two have been able to get new gear in general, including what Jay referred to as the "king of amps."
Jay previously achieved their trademark "big" sound with quite a large rig of pedals, switches, and more, to manipulate his guitar playing The new setup is more streamlined. "Basically we took a big sound and made it bigger," he said. He added that with the new gear came a new maturity in songwriting as well.
Their third album is still in the works and is shaping up to be a mix of both old songs that have seen their share of play at shows as well as new tracks. Altogether they plan on having about twenty songs on the album, including their old straight hard rock sound as well as new transitional work. They're still smoothing things out, but they promise it will see release. "We're not trying to go full 'Chinese Democracy,'" said Jay.
All in all Anomic have had at least seven tours and if their upcoming concert is any indication, they have no intention of slowing down any time soon. They encourage everybody to come on out and rock with them. "You'll get sweaty, there'll be hugs, Rick's shirt is going to come off," said Jay. Rick has never made it through an Anomic show with his shirt still on, to my knowledge. "We'll be crankin' hoons and jamming tunes," said Rick (crankin' hoons is his phrase for smoking cigarettes).
"Oh, and be sure to include that we're going to rock the house," said Jay, something Rick groaned at. "He hates that saying." So if any of those things sound like your cup of tea (and trust me, they are), make your way to their next show at the Aquarium.
IF YOU GO
Goodbye Old Friend, Anomic, Chaos in Question, Barnaby Jones
Sunday, January 28, 8-11pm
The Aquarium (Dempsey's upstairs), 226 Broadway N