​Band of brothers
by Sabrina Hornung | .(JavaScript must be enabled to view this email address) | Music | February 23rd, 2017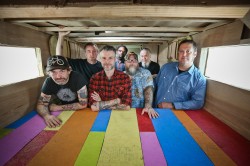 As youths, members of the punk-country band Lucero cultivated their love of music at the neighborhood haunt known as The Antenna Club, which was known to host matinee hardcore shows. But in a city like Memphis, home of the iconic Sun Studios, Lucero bassist John C. Stubblefield said, "There's so much history in music here, it's hard not to be influenced." This being said, you can see how they managed to blend a little bit country and a little bit rock and roll to develop their signature style.
The High Plains Reader had a chance to catch up with Stubblefield and chat about the band, their fans, and their take on the Memphis sound.
High Plains Reader: Lucero is known to tour extensively--do you have any pre-tour rituals?
John C. Stubblefield: It's funny you say that--I'm actually having my ritualistic last lunch of the day. Broadway Pizza in Memphis. I get a small barbecue pizza with an Italian side salad and a Coca-Cola. It's been my favorite meal since I was a kid. I've been coming here since I was five years old, so that's 35 years.
HPR: Lucero has been together for close to 19 years, plays up to 250 shows a year, and still has the original line up--is that correct?
JCS: Yeah, it's still the same four original dudes and then we've added a keyboard player. Rick Steff has been with us a little over 10 years.
HPR: How does that happen--is there some kind of a recipe for success?
JCS: I don't know, I guess the chemistry and all coming from the same place and time and kind of having the sheer dumb will attitude. I mean you kind of get to a point where you're a band of brothers with an us-against-the-world kind of attitude to a certain degree. Especially in our formative years when we weren't playing 250 shows a year, just driving around in a van and playing as much as we could.
Of course, all of us have the same kind of momentum or are all on the same kind of perpetual motion machine, if you will -- we all have the same vested interest of time and effort and everything. At a certain point, it's like this is all we know and what we do. All the frustrations and all the little minute things that might break up any other band -- we just keep it together. We're a band of brothers and it just works for some reason.
HPR: So you grew up going to punk/hardcore shows. How did you develop your unique blend of punk and country?
JCS: I think it's a big part of realizing and appreciating where you're from. We happen to be from Memphis Tennessee, and going back and listening to Old Sun recordings like Roy Clarke, the different and more obscure rockabilly guys and even early Elvis. Original rockabilly has its own feel and its own Memphis country. Rock is an amalgamation of all different styles--and it's become rock and roll. It's kind of what people have been doing all along. All the way down to Carl Perkins, Johnny Cash, Jerry Lee Lewis and a host of many others.
Combining the country twang with a little bit of R&B to make it rock and roll--they're the original punk rockers, if you really think about it! (laughs) A lot of it is really realizing where you're from and perking your heads up and recognizing the musical landscape. Without trying to emulate it exactly, it rubbed off on us without us realizing what we were doing.
HPR: Lucero is known for its loyal fan base. Why do you think your audience relates to you so well?
JCS: I guess we kind of wear our hearts on our sleeves and we get out there and give it our all to a certain degree. We might sound a little cliche but we tell people we're just the music -- y'all are the band of people that hold us together, who give us a reason to do what we do. I think coming from a punk rock/hardcore background, the audience is just as much a part of the experience as the band. We kind of break down the whole "rock star thing."
We're humbled and enthralled by people showing up to see us play. The crowd is just as important as my job on stage. So, I think to some degree that translates. People can see that and appreciate it--or I'd like to think so!
IF YOU GO
Lucero with Esme Patterson
Tuesday, February 28, 8pm
Sanctuary Events Center, 670 4th Ave. N, Fargo