Barbershop chorus goes international
by Brittney Goodman | .(JavaScript must be enabled to view this email address) | Music | November 29th, 2017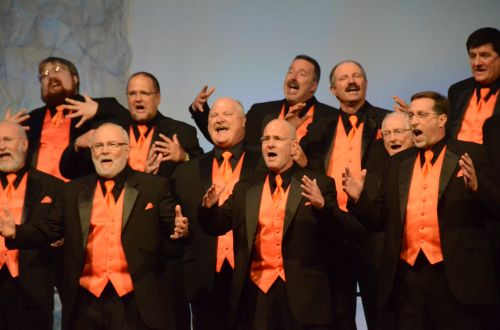 Fargo-Moorhead's barbershop chorus, Great Plains Harmony (GPH) has earned a spot in the prestigious and competitive Barbershop Harmony Society International Competition in Orlando, Florida in July 2018. They will be competing against 30 choruses from around the world.
To earn this honor, the GPH competed against 18 other barbershop choruses from three states and two Canadian provinces at the Land O' Lakes District competition in October.
This is only the third time in 67 years GPH has made it to the international competition.
Gordon Moe, President of GPH, says "This is a very exciting time for us and something that Fargo-Moorhead should be proud of. To be able to produce a vocal ensemble that can compete at a high level, with large-market cities, says a lot for our community."
GPH, a nonprofit organization, will be asking for community support through sponsorships and donations to help defray travel costs.
GPH performs a variety of music from barbershop to vocal jazz to gospel to choral arrangements. According to Tim Noteboom, a member of the chorus for twelve years and a local home inspector, GPH has been "Fargo's premiere barbershop chorus since 1950."
GPH has 60 full time members, aged 18 to 85. Thirty to forty members practice each Thursday night.
It is a big deal to go to the international competition. Noteboom notes that roughly 250 choruses worldwide have competed regionally with hopes of making it: "Now we are in the 30 out of 250. It feels good. It is the idea of going and representing our region and Fargo-Moorhead. It will give exposure to our Fargo-Moorhead community."
The GPH does two large public shows annually. The spring one is always gospel-themed and in January this year, they will be doing a Hee Haw-themed show. "There will be cornfield jokes like Hee Haw and it will be an hour and a half of singing, jokes and skits." The venue and date are to be announced.
When asked what inspires him to continue to be part of GPH, Noteboom says, "What I enjoy the most are the people. I've been a member for 12 years and my son joined at the same time, when he was 16. Now he's in graduate school and out on his own, but I still get to see him every Thursday night for practice. It is a great group of guys. We have everything – farmers, doctors, lawyers, welders, IT technicians, college students and retired people. It is a really diverse group of guys. But we have one common thread – we enjoy singing."
Noteboom notes that the group is always looking for new members. If you are interested in joining or learning more, show up to practice on a Thursday night at Grace Lutheran Church, 821 5th Ave S, at 7:30pm. Newcomers must sing three times with the group and then audition for the director/conductor. The ability to read music is not required. "It's just a lot of fun," says Noteboom.
Sheila Childs is the conductor for the group. She is a retired North Dakota music educator. Noteboom says that Childs "brings a lot of energy to our group." Childs has sung with "The Scotsmen" dance band for 14 years with her brothers, Scott and Kevin, and also "The Great American Ballroom Band" and "Tuxedo Junction" as well as directing musicals and church and community choirs.
Within the chorus there are four quartets that do performances. Noteboom is a member of the Good Fortune quartet. They stay active by singing at anniversary and holiday parties and visiting local nursing homes. During their annual Valentine's Day fundraiser, the Good Fortune quartet has done as many as 115 singing valentines. "That is a really fun day," says Noteboom.
Part of the proceeds goes to the Dakota Boys and Girls Ranch.
Noteboom recommends following the group on Facebook to "keep up with what we've got going on."