​Big band meets the big stage at FMCT
by Paige Johnson | .(JavaScript must be enabled to view this email address) | Music | December 6th, 2017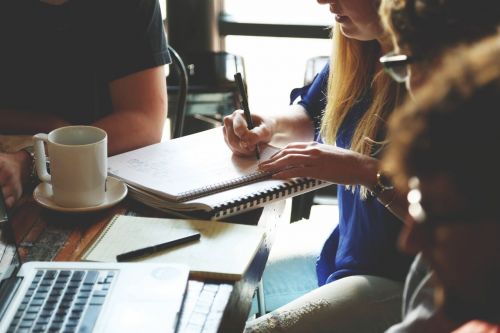 ae@ndsuspectrum.com
This holiday season, the Fargo-Moorhead Community Theatre is bringing nostalgia to their stage in their adaptation of the 1979 musical, "The 1940s Radio Hour."
Set in 1942, Radio Hour centers on the small radio station WOV in New York, which is recording a special broadcast for the soldiers overseas. The cast and crew of WOV are a hodgepodge of characters, including a haggard producer, a drunken lead singer and the delivery boy who dreams of singing in the show.
"The show is all nostalgia," said Adam Pankow, artistic director of FMCT. "…There's a familiarity, I think, even though a majority of us weren't alive during the 1940s or experienced the 1940s."
The entire show will be in the style of a typical 1940s radio show, with quirky comedy bits, dancing, live sound effects, "on-air" and "applause" signs and a live, on-stage band.
The F-M Kicks Jazz Band, a 15-person professional band comprised of college professors, high school teachers and professional musicians, all from around the Fargo-Moorhead area, provides the big band music of the show.
"Another thing prior to really the mainstreaming of television was the radio show," Pankow said of the use of the band. "To use CBS and NBC, they all have these live, in-house orchestras. And they play all the music and you hear Frank Sinatra and Bing Crosby sing and all of that. This show is kind of unique because we do have a live, 15-person band on stage as part of the action, as part of the radio show that we're creating."
The band will not only be performing, they will be interacting and participating in the action as part of the musical itself.
"The musicians are as much a part of the show, and integrated as part of the main action, as the actors and actresses of the show," he said.
The show also features both new and old actors of the FMCT stage and community.
"That's really exciting to see that new talent right alongside veterans of our stage that have done dozens and dozens of shows," said Pankow. "I just love that. It's not unique to this production necessarily. But I think it's unique to our organization that we have that sense of fluidity and new talent that comes across our stage as often as it does."
"The 1940's Radio Hour" will also host additional events associated with the production, including a military salute night in collaboration with the WDAY Honor Flight on Saturday, Dec. 9. There will also be an opportunity to go backstage for a look into how theatre is made on Friday, Dec. 15.
Finally, on Saturday, Dec. 16, FMCT will be hosting a pre-show catered dinner called "The 1940's Dinner Hour."
"We're just pulling out all the stops for a memorable holiday season at the theatre," said Pankow.
IF YOU GO 'The 1940's Radio Hour' Dec 8, 9, 14, 15, & 16, 7:30pm; Dec 10 & 17, 2pm The Stage at Island Park, 333 4th St S, Fargo
Tickets: $21 adults, $15 student/senior
Info: fmct.org, 701-235-6778