​Billboard, bands, and business: an interview with Salt Creek
by Jack Stenerson | .(JavaScript must be enabled to view this email address) | Music | July 12th, 2017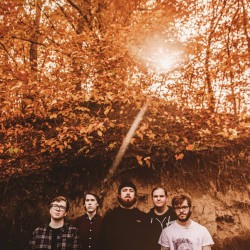 Salt Creek is an indie/post-rock band based out of Lincoln, Nebraska. They just released their new EP, Where Strangers Go, to critical acclaim and the #5 spot on the Billboard Heatseekers Chart.
High Plains Reader: Congratulations on the new record hitting the billboard charts! How did you find out?
Nathan Richardson, guitarist: We got an email from Alex Vitoulis [from Billboard], we had tracked our sales so we kind of thought it might have been a mistake at first until he followed up and told us to send him a few more details.
HPR: What was your reaction when you got the news?
NR: We were kind of confused and thought it was funny. Our parents were super stoked though. It's helped us get a bit of notoriety with some publications to cover us though, so that was definitely tight.
HPR: Besides being in Salt Creek, you run a very successful merch printing business. How do you split your time between both?
NR: It's been difficult. Nate [skinner] also works for my brother [Matt] and I. We have to push harder with the time we have at work and have to work later on weekends. We're starting to figure out how to maintain it slowly though. I've found that if I invest more of my time into fewer things, I get more out of it.
HPR: Is it hard to operate the business when you are on the road?
NR: There's a lot of give and take. I managed to work on the last couple tours pretty efficiently, but I still have a lot to work on. Time management is everything. Ha ha, I sound like a business management teacher.
HPR: It looks like Salt Creek has a pretty busy schedule for the rest of summer. What are you most excited about?
NR: So we have this July tour with Unturned, we somehow won a contest to play Kansas City Warped Tour and are doing that in late July, then a couple shows in August as well. I don't think there's really anything I'm more excited about, but this tour with Unturned is all in places we've been quite a few times, so I'm really excited to see all the Fargo / MPLS / KC friends. Warped tour will be pretty cool,
HPR: What is your biggest accomplishment so far as a band?
NR: I think putting this new record out has been the biggest. We put it out as best we could and we did it ourselves. This was also the first time any of us had ever pressed records to vinyl, and that was a bucket list item for all of us.
HPR: You used to play in the hardcore band Lighthouses, a band that a lot of Fargo people know and love. Is it different touring with a band like Salt Creek than it was in Lighthouses?
NR: It's definitely different, we have a van with air conditioning now, ha ha. Other than that, we play with much more eclectic genres in this new band. It's kind of cool being able to play with so many different bands, since none of us have ever been bound to one type of music.
HPR: When I listen to Where Strangers Go, I hear influences from a lot of different bands. Who were your biggest influences for this record?
NR: We each have different influences, so it's a bit hard to pinpoint. Most of us would agree on Death Cab for Cutie, Incubus, Moving Mountains, Thrice, Envy on the Coast, Tame Impala, Deftones, and some more current bands as well.
HPR: When you started writing with this band, did you have a specific sound in mind or did it evolve to what it is now through the writing process?
NR: It definitely evolved in the writing process, though one of our first songs we wrote as a band was Phase, which we didn't release until this May. We still are learning and growing as a band, so it's a constantly evolving process.
HPR: You recently announced that you are playing a date of the Warped Tour this year. How did that come about?
NR: So we signed up for the "Play Warped Tour" contest and somehow won. Ha ha, I have no idea how, but we're super stoked. I always kind of hoped that we'd win one of those contests, so we always have signed up regardless of the chances. And it worked somehow.
HPR: How do you think the Warped Tour crowd will respond to your music?
NR: I have no idea. We definitely aren't your typical Warped Tour sound, but maybe that's why they picked us to play. I hope they like us; if not it ain't no big deal.
HPR: This will be your fourth time in Fargo. What keeps you coming back?
NR: The New Direction crew has been family to us since I started touring six or seven years ago. It's been one of our favorite places to play. I'm super excited about playing at The Red Raven. I somehow have never played there, so it's about time!
HPR: What are some of your favorite places to play?
NR: Anywhere in Fargo, JJ's in Milwaukee, Gillie's Bar in Kearney, Nebraska, and Colorado Springs. We're just starting to get out to the coasts, so right now we're just hyped on the Midwest! So glad we get the chance to play all over.
IF YOU GO
Saltwater Creek with Unturned, Inconsistent, Too Fast For Frank, and Gneil.
Saturday, July 15, 6pm
Red Raven, 916 Main Ave, Fargo