Blue Gritt : Blues rock and hand-built amps
by Sabrina Hornung | .(JavaScript must be enabled to view this email address) | Music | November 9th, 2017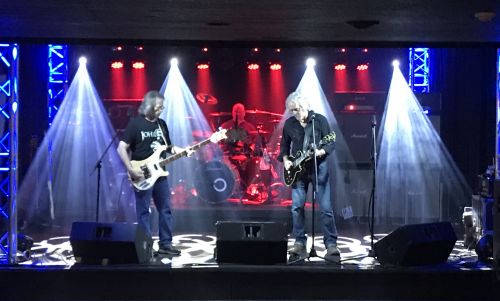 "When you're involved in a song and just everything is going great, you can hear it," says Blue Gritt drummer Ross Cariveau, "Everyone's playing great. There's a pocket or a bubble that you're in and you always want to be there, but you can't find it all the time. When we can find it we don't ever want to leave it."
According to guitarist Maurice "Mo" Skogen, "The hardest part with singing and playing an instrument is finding a song that puts my hands on autopilot." Drummer Craig Soliah added, "None of us are lead singers but we can sing together."
Blue Gritt is a three-man blues rock band consisting of Ross Cariveau on drums who is based out of Detroit Lakes, Craig Soliah of Moorhead on bass, and Maurice "Mo" Skogen of Fergus Falls on guitar. They're a groove-oriented blues rock band. They've been around for close to three years but the three have known each other for decades via playing the lakes country regional music scene.
"We have a mutual respect for each other, we can goof around and still know where we're gonna go. I think that's from playing together a lot and playing together for a lot of years." Cariveau said.
Cariveau and Soliah picked up their instruments in the mid 70s, influenced by the sounds of Black Sabbath and Deep Purple. In fact, the bass line in "Smoke on the Water," by Deep Purple, made Craig Soliah want to play the bass--and play it he does.
Vintage Voltage Engineering
Guitarist Mo Skogen traded his trumpet in for a guitar in the mid 60s. He'd always had an ear for rock and roll but it only got deeper once he heard the sounds of Cream and Jimi Hendrix. He joined the Fargo-based band called Gravel Road once he graduated from college in 1974. With Gravel Road he toured a five-state radius.
During this time he would spend his time playing and fixing the band's road-weary equipment. Years later he used this knowledge and his engineering background and eventually opened his Fergus Falls-based business Vintage Voltage Engineering. Here he builds his own hand wired point to point tube amplifiers.
"It took some time. I didn't want to put myself out there until I had my routine down, like how I build and where I get my parts from--and I've researched that my whole life."
"It takes a lot of time, it's labor-intensive and it takes an understanding of the older school of electronics; and it's really helpful if you're a guitar player making guitar amps, because you know what you want to hear." He went on to say, "As I change little parts that vary the sound, I know where it's going. Having this critical listening skill is what's important to be able to develop a product."
A man much wiser than me is known to say "True grit is hard to find," but Blue Gritt can be found at the downtown VFW this weekend.
IF YOU GO
Blue Gritt at the VFW
Friday, November 10, 9:30pm
Fargo VFW Post 762, 202 Broadway N
www.fargovfw762.com; 701-235-8243