​Bringing the big band sound to Fargo
by John Showalter | .(JavaScript must be enabled to view this email address) | Music | August 23rd, 2017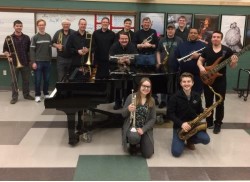 The "big band" is truly ubiquitous in the United States. Ever since the jazz-influenced genre of music first appeared and had its peak popularity in the 1930s and 1940s, it has stuck around, even having a resurgence in the 1990s and still being listened to this day.
No matter the musical innovations that come and go, we always seem to to return to the big band. Perhaps it's because it is such a traditionally and uniquely American musical tradition, perhaps because it calls to mind what many think of as simpler times. Whichever the case may be, John Pederson is a Fargoan committed to keeping the tradition alive with his F-M Jazz Orchestra.
Pederson is certainly no stranger to jazz music. For 17 years he played the lead trumpet in the Fargo-Moorhead Jazz Arts Big Band. Before that he played in the "Dick King Classic Swing Band" based out of Grand Forks, also as lead trumpet.
He describes how he has always had a passion for "big band" music in particular because of its particularly American heritage. "I just love big band jazz and wanted to start a band of my own to continue America's own original musical form, born and bred in Kansas City."
He also mentions his passion for the ability of jazz players to improvise solos something which gives them an opportunity to express part of themselves in the music form.
Pederson began the F-M Jazz Orchestra about three years ago. Before that, he had fronted another local big band named Jazz Inc that performed quite frequently. "Some of the key players moved on and we put the band to sleep only to awaken it into the F-M Jazz Orchestra."
In his opinion, his newest project is actually superior to the former Jazz Inc. After the dissolution of Jazz Inc, Pederson still had a box full of the music from his previous outing, and after calling around he had what he called "the nucleus of a great big band." Some had previously played with him in the "Jazz Arts Big Band" and others he heard about through word of mouth.
Since the genesis of F-M Jazz Orchestra, they have played several times a year. They have ended each performance season by playing for the "All City Jazz Festival" with Fargo Public Schools, an approximately forty-minute concert featuring the music of some of big band jazz's greats, including Buddy Rich, Woody Herman, Stan Kenton, and Count Basie, "just to name a few."
On August 13, the band performed in north Fargo for Chris Hanson's Jazz Festival at the El Zagal Shrine. There is no need for regret if you missed that concert, as F-M Jazz Orchestra has been asked to play at Riverview Place's "30th Anniversary of Apple Dumpling Days" on Sunday, October 8th from 1pm to 3:15pm. That concert will be free and open to the public, and all are invited.
For other events held by the band, tickets are available through the local firm Tickets 123.
On top of that, the band plans to hold three more concerts: a fall concert, a Christmas concert, and a grand concert to end the year, which will also feature a guest artist.
Otherwise, be sure to keep your eyes open for new performances as they are scheduled by the band, if you are excited about hearing a classic sound performed by local musicians with a passion for one of America's longest-standing musical traditions.