​Carluster Crumplebee Orhchestra: Fargo's "hot club" performs in the style of Django Reinhardt
by HPR Contributor | .(JavaScript must be enabled to view this email address) | Music | December 19th, 2013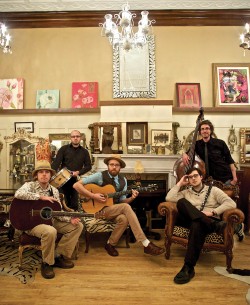 By Richard Schaan
What do you get when you combine the style of a two-fingered jazz guitar legend, the name of a backup tight end that played one season with the Minnesota Vikings, and a collection of some of the area's most talented musicians?
The answer is The Carluster Crumplebee Orchestra, a gypsy jazz band inspired by the music of Django Reinhardt, a Frenchman who became one of the world's greatest jazz guitar players despite losing the use of two fingers in a fire. As for the band's name, Carlester Crumpler only caught two passes as a Viking, but his unique name was more difficult to forget than his short-lived career.
"When I used to tour with the Johnson Family Band we would come up with band names to pass the time," said Carluster Crumplebee guitar player and bandleader Tom Johnson. "The Carluster Crumplebee Orchestra was one of Mark Reitan's, and I always knew I wanted to use it someday."
Django-inspired gypsy bands are often named The Hot Club of San Francisco, The Hot Club of New Orleans and so on, but Johnson didn't think "hot" and "Fargo" had any place together.
"And The Cold Club of Fargo just sounded like a sandwich," he added.
After starting rehearsal in May, Johnson accelerated the band's learning curve by booking its first show at the HoDo, the same place the band will play this New Year's Eve.
"Just book a gig and it's gonna make you get your sh*t together," Johnson said.
Bass player Dustin Ellingson, also of Hardwood Groove, jokingly credits their experiences at local universities for that trick.
"It's because we went to college and now we are deadline oriented," he said.
Not long after that first show the word around Fargo was that this band was a must see attraction. It's found an audience that ranges from jazz enthusiasts to tipsy college girls that just gotta dance. Unlike many jazz shows, which Johnson said have become like golf tournaments with their subdued crowds politely clapping after each well-played solo, the gypsy jazz of Carluster Crumplebee brings the fun back into a musical form that was the rebellious music of its day, not the dry (yet still brilliant, mind you) PBS special that it has become.
Perhaps the most impressive credit to its talent is the fact that while its shows are a combination of jazz classics and originals, it's nearly impossible to tell which musicians are which. While Johnson is the bandleader, he shares the spotlight and guitar solos with the super talented Eric Martens. The unique styles of the two complement each other well, and Andrew Long's clarinet adds a third dose of amazing to the band's frontline mix.
Even though traditional gypsy jazz didn't feature drums, drummer Lance Tessman, also of the Celtic band Poitin, fits in perfectly alongside Ellingson, who continues to shine as one of the area's most capable standup bass players. While other guest musicians may come and go in this open ended group, this is what Johnson refers to as his "A team," and it's easy to see why.
Starting with a desire to lead a band that would have enough material to "play all night," Johnson looked not only to Django, but also to the work of Emmet Ray, a guitar player that never existed. In Woody Allen's 1999 film "Sweet and Lowdown," Sean Penn earned an Oscar nomination for his role as Ray, a gambler, a pimp and the greatest (well, second greatest behind Django) guitar player in the world. Allen's movies have also featured the music of living gypsy jazz guitarist Stéphane Wrembel, another of Carluster Crumplebee's influences.
With about a third of the show being originals written by Johnson and the rest covers with original arrangements (except the Reinhardt tunes), Carluster Crumplebee brings enough variety to hold an audience from the first song to the last, and its New Year's show at the HoDo Lounge promises to be one Fargo's best options for kicking off 2014.
IF YOU GO:
WHAT: Carluster Crumplebee Orchestra
WHERE: HoDo Lounge, 101 Broadway
WHEN: Tues, Dec. 31, 9 p.m.-1 a.m.
INFO: http://tiny.cc/k8267w