​Cultivating EDM: Sub:Culture
by Logan Macrae | .(JavaScript must be enabled to view this email address) | Music | January 17th, 2018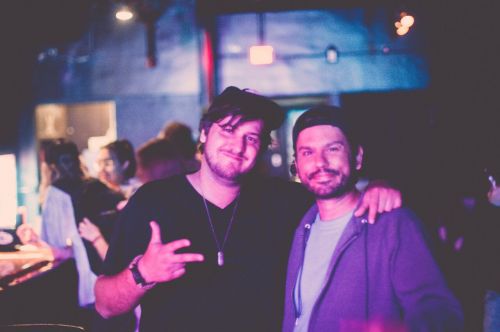 From bass grumblings in the Pickled Parrot, Sub:Culture was birthed. The weekly EDM showcase originated by Eric Johanson(EJ) and Chris Patano(Butter), entitled Thirsty Thursday, gave way to something new and refreshing for the F-M area and the whole state. Now on episode 84, Sub:Culture has been bringing the beats to the Aquarium for over a year.
It wasn't an easy transition, though. For a bit, Brian Noce (DJ Econ) tried it on his own, producing a show called Hump Day. It just didn't work. Only after he found two partners in crime did it kick off; and this is what started the Wednesday night tradition and what led to a collaboration of three of the best electronic DJs in the area: Brian, Eric Dale (Wissota), and Taylor Bride (Dextrious).
This trio has over 50 years of combined experience, and it shows in their work. Brian the sole talent buyer, has been directly involved with electronic music for over 22 years. He is planning on bringing increasingly bigger acts to F-M, and he divulged that Sub:Culture will be hosting Zeke Beats on March 7, all the way from Australia.
Brian also hosts a weekly radio show on 95.9 KRFF called "The Weekly Rinse," and has been doing so for the last two years.
Eric Dale, or Wissota, has been in industry for at least five years, and has been making waves in the garage scene all over the world. He has reached top 25 in the European charts and has also reached number one as part of a compilation put out by All Out Records.
Eric is the main visual designer and does all of the projection mapping for the production of Sub:Culture. He also co-hosts a radio show on KRFF entitled DubKnown. He trades off with another host every other week at the Friday night 9pm spot.
Taylor Bride, or Dextrious, makes up the rest of the 50 years of experience with his contribution to the team. He was one of the main producers initially, but with a growing family, Taylor has had to take a step back and is no longer as directly involved with the production processes. You will catch him randomly performing and producing at times and it's always a treat to catch one of the Founding Fathers sets.
Sub:Culture is growing larger and larger with greater reach into the state and region. While details are rather hushed about upcoming shows, the team assured me that what is coming next is sure to knock your socks off. They aspire to truly represent the EDM culture by bringing in a wide array of electronic genres. This includes but is not limited to House, Techno, Breakbeat, Garage, Deep Dub, and Leftfield Bass.
The team admits that they didn't do it all alone, and that they must thank Mike Nelson and Ty Ford for they would be nowhere without this duo setting up visuals and helping produce. Also, bartenders Allison and Cassie have been fantastic and provide excellent service to all the thirsty dancers and audiophiles that pack The Aquarium, a venue that feels a hell of a lot like home to Brian and Eric.
The motto of these men is all music all the time, and they claim to be happier than they have ever been. Both Eric and Brian work at Livewire, and continue to work together successfully when the work day is over and it's time for personal pursuits.
Keep your eyes on Sub:Culture. This week's episode 85 is all about the 90s, so grab your Zubaz and your starter jackets and head for The Aquarium on Wednesday night for a party.
IF YOU GO
Sub:Culture, electronic dance music
Wednesday, January 24, arrive around 11pm
The Aquarium, 226 Broadway N, Downtown
701-235-5913