​Digging a Prairie Pothole
by John Showalter | .(JavaScript must be enabled to view this email address) | Music | July 18th, 2018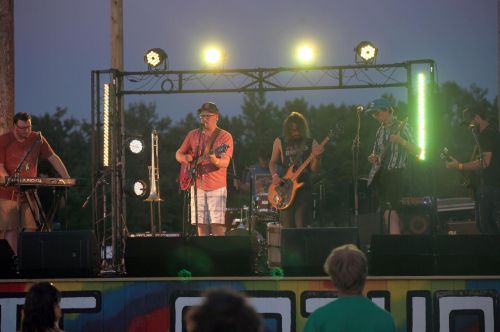 There is a lot of wide open space in north central North Dakota. That is absolutely no secret. Plenty of fresh air and open skies punctuated by the occasional small town. That kind of real estate just seems to be asking for a music festival set out under the sun and stars. After all, if something like Burning Man can draw crowds to the middle of the desert, then why not more hospitable prairieland? All it would take is someone with the dedication to put it together. Recently, we had the chance to interview a man who did just that, John Wardner.
Along with his business partner, Wardner founded the Prairie Pothole Music Festival, which is occurring for its third year. The festival grew out of previous music-focused parties that Wardner had held at his family's cabin site at Brush Lake about six miles north of Anamoose, North Dakota starting in 2008-09. Wardner's business partner and friends shared his passion for local bands, music, camping, and aquatic activities. They helped him with everything from promotion, communications, construction, and volunteering at the gates. Starting with only five acts and some jam sessions on their first year, the festival has grown to include thirty acts and jam sessions every night. "There is no corporate sponsor or anything like that. It's old friends making new friends against a backdrop of summer music out in nature," said Wardner.
"Prairie Pothole Music Festival is a grassroots music festival," said Wardner. "We say 'grassroots' for two reasons: 1.) It is a totally independent festival that seeks to showcase as much local talent as possible; and 2.) Well, it's out on a prairie (next to a pothole, naturally). The festival is on the site of a former hunting lodge that combines many of our favorite geographic features of N.D.-rolling hills, tree rows, and a lake (the 'Pothole' namesake, also known as Little Antelope Lake)."
As mentioned earlier, this year's festival has around thirty acts spanning a range of genres including soul, folk, bluegrass, EDM, rock, and blues. The lineup includes several Fargo-Moorhead area local favorites and North Dakotan acts known statewide, such as Jennifer Lyn & the Groove Revival, The Human Element, Northern Light, the Flea-Bitten Tramps, Flatt Mountain Bluegrass Boys, Fuzz & The Guns, and New Reign. There will also be bands from out of state, like Minneapolis band Frogleg, Aitas, from Staples, Minnesota, and DJ Mystic Grizzly from Fort Lauderdale, Florida.
There will be two food vendors on site, but the event is BYOB. People are also free to bring their own coolers and use small grills at their campsites as well. "Mostly, people come out with the expectation of primitive camping and we had a pretty good tent city last year," said Wardner. "We have our own private lake on site of people want a refreshing swim or kayak outing. There are portable restrooms throughout the property."
Wardner also mentioned how at last year's festival several people brought out smokers and grills and engaged in friendly "campsite contests" to see who could make the best food and that he expects to see some of that friendly competition again this year. Although campers and RVs are welcome to come in there are no hookups at the location yet, although Wardner hopes to have that infrastructure in the future. If any of the attendees forget to bring some simple amenities or leave some food at home, the small town of Anamoose is only about six miles away and Harvey about another sixteen miles past that.
"We hope even more people can join us for this year's event. Last year proved to be successful beyond our wildest dreams, and we hope to continue to grow a little larger year after year," said Wardner. "We'd like more people to join the Prairie Pothole family, to come out and enjoy the festivities, and take in what the festival has to offer. I think it's a great time for a festival like this to be alive, especially with so many stellar bands in our state and region. Apart from the 30-plus musical acts we've got scheduled, we've got three nights of late-night jams, as well as vendors that have food, clothing and more. Plus, we're bringing back the Kayak Race and Campsite Contests, each of which will award tickets for the 2019 festival to the winners. There's a little bit of prep work left, but we can't wait to see you all out there!"
IF YOU GO:
July 19-22
Anamoose, ND
Full schedule at www.prairiepotholemusicfestival.com
Presale tickets on website or at Rhythm Records and Café in Bismarck, Many Visions and Nola's Lounge in Minot