​Egypt and Ghost knock 'em dead at the Civic
by Sabrina Hornung | .(JavaScript must be enabled to view this email address) | Music | June 21st, 2017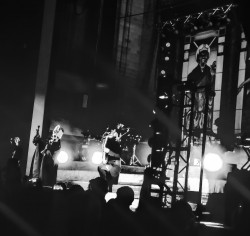 Every so often in rock and roll history, a new act comes to sonically and aesthetically shock and stimulate us. Ghost is one of those acts. The band consists of five "anonymous ghouls" wearing well-tailored black costumes and expressionless gargoyle-like silver masks. Last Saturday the Swedish metal band Ghost made their Fargo debut at the Fargo Civic Center with Egypt--Fargo's favorite rock n' rollers.
Though their masks were expressionless, their energy was electric as they nimbly made their way around the stage, revving up the crowd, preparing us for a high-energy show.
Once the ghouls were situated they wasted no time in opening the show with their hit "Square Hammer." Frontman Papa Emeritus made his first onstage appearance adorned in anti-papal mitre, complete with inverted crosses and corpse paint.
Their sound is melodic and seems to channel more classic rock/glam rock than guttural bang-your-head metal. They also incorporated surf rock-worthy guitar solos into the song Ghuleh / Zombie Queen, and a noteworthy vocal range. Papa Emeritus was extremely charismatic with his onstage banter -- never breaking character he maintained a regal presence.
The stage was full of religious symbolism. At one point two "sisters of sin" dressed as nuns came out to give the first row of show-goers their unholy communion. Banners behind the stage contained heavy satanic imagery, and recorded chants praising Lucifer filled the sound space between sets and songs.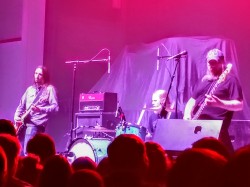 The crowd was a great mix of people. One of my favorite fans was a small boy perched on his dad's shoulders throwing out horns with the rest of the crowd. I gave mother, father, and son my mental props, reminiscing about my first concert with my dad at 15. It was a stretch convincing my mom to let me see Skynyrd with him. There were no "Hail Satans" though I do recall that we both teared up a bit during "Free Bird." I guess it's safe to say the apple doesn't fall too far from the tree.
Local heroes Egypt opened the show one day after their album release at Drekker playing a mix of old and new material. Aaron Esterby, frontman and bassist, is a man of few words in his stage banter. One fan yelled, "You guys f*cking rock!" Esterby chuckled and looked down at the floor almost bashfully. A stark contrast to his onstage performance.
Doom metal, desert rock, stoner rock--call them what you will, but Egypt is a force to be reckoned with. Melding the controlled fury of Neal Stein's searing guitar riffs with Esterby's gravelly vocals, their heavy blues-infused rock sound trudges on. Two very different sounds graced the Fargo Civic stage that night and both captivated and enchanted--or maybe more appropriately, bewitched their audience.
Egypt will be heading overseas this summer for their third European tour. The band garnered a European cult following partially due to the now defunct website StonerRock.com.
.