​Feeling the Heat: Lutheran Heat at Sidestreet
by Sabrina Hornung | .(JavaScript must be enabled to view this email address) | Music | September 13th, 2017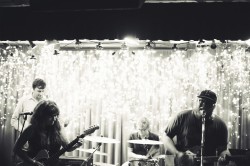 Minneapolis-based rock and rollers are turning up the heat, that is to say Lutheran Heat. The band consists of Garth Blomberg on guitar and vocals; Sara Pette, guitar and vocals; Matt Engelstad, bass and vocals; and Justin Nelles on drums. Though hailing from the Twin Cities, Blomberg and Nelles are no strangers to the F-M music scene.
High Plains Reader: Where did the name Lutheran Heat come from? Second--Do you get any heat from the Lutherans on your name?
Matt Engelstad: Dave (Dave Strait of the Slow Death, Matt and Dave played together in Pretty Boy Thorson and the Fallin' Angels) and I used to joke about Lutherans trying to play jazz but no one wants to take a solo because they don't want to do anything that makes them seem too special or show off too much.
The heat part is trying to imagine Scandinavians from the valley getting all hot bothered and covering James Brown's Sex Machine. Will Anderson from the band 'Weed' whose relatives are from Moorhead, I think his great aunt called me a poser when she asked about the name.
HPR: I know that you (Garth) and Justin are Fargo guys. How did the band come together?
Garth: Our bass player, Matt Engelstad, also lived there for a time. Matt and I played in a band called Young Pretenders, and were both bass players in a band in Minneapolis called Cortez the Killer (I believe Fargo's own Leif Nygaard was the original bass player of Cortez). Young Pretenders broke up and Sara was bugging me to start a new band. So I agreed, got Matt to play bass, and our original drummer was Annie May from MInneapolis. She moved away at the same time Justin moved to town, worked out perfect! I still think we've only been a band for a couple years, but it's been like 4 or 5 years.
HPR: What or who influenced your sound? It's what, a unique cross combination of genres: garage, punk and retro pop with a sense of optimism?
Garth: I think it was originally a garagey 60s-based influence. Early on I thought of it as an early Lookout! Records-style band. Now I suppose it's still rooted in that 60s sound but maybe more modern indie-pop. Who knows!? I personally like to take Chris Stamey, John Fogerty, and J. Mascis and mash 'em up. I love that you mentioned optimism, it's not all optimistic but we like when that feeling is in the music.
HPR: What's your writing process like?
Garth: Long and arduous. It's pretty funny how long it takes us to write the simplest little songs. We're all music fans, we're all informed, we have a lot of opinions on songwriting, and frankly we're busy people. It takes a while to get it together. We're usually pleased with the results!
Sara: our writing process is usually Garth or sometimes Sara brings a skeleton plus some organs of a song to practice, and we work it out and describe our vision for the song, and everyone else pretty much locks right in. Also we have written songs around a cool bass line that Matt comes up with, on the spot. We are all total music dorks so we likely pull influences from all over the place and don't even realize it.
HPR: Do you have a favorite venue in the Cities...or rather, what are your favorite kinds of venues to play?
Garth: I think we like them all. Having venues with nice monitors and good stage sound, that's pretty nice. But a noisy basement show, with people dancing and having fun, is amazing.
Sara: I guess I would say that my favorite venue in the Twin Cities continues to be the Eagles Club. Mixture of old regulars plus the maximum of three shows makes for a very diverse and yet congenial bar atmosphere (there's three rooms in the Eagles that can have simultaneous shows). Like everyone is fine with each other's existence even if they come from very different worlds. I'm sad that there are not too many houses going on these days that host a lot of shows but also we have never played that many house shows here to begin with!
HPR: It's been awhile since you cats have come through Fargo. As a Veteran of the Fargo music scene what do you think are the biggest changes?
Garth: The Downtown city itself has changed a lot, with new development and is barely recognizable from the way I left it in 2005. Thanks for cleaning up my mess! I'm a little out of touch with the local scene, but the bands and rappers I do know are killing it! I'm proud of them all, and I'm proud of all my artist friends in town who are making it happen for themselves! I once thought that was impossible to do in Fargo, and I had to move away to accomplish that. I'm psyched to see a community embracing art and music and Fargo being a place they can live and thrive!
IF YOU GO
Vacation, Lutheran Heat, Hard Feelings, and Supercruiser
Friday, September 15, 9pm-howling
Sidestreet Grille and Pub, 404 4th Ave N