​Folkin' around
by Sabrina Hornung | .(JavaScript must be enabled to view this email address) | Music | July 18th, 2017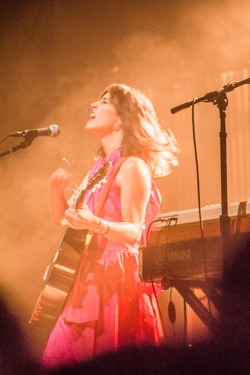 With a wide span of genres and talent spanning from the world music of Ukrainian folk band Dhakabrahka to indie rock such as the Shins and Feist, to hip hop sensations such as DJ Shub Chali 2na & the House of Vibe there's something for everyone at the Winnipeg Folk Festival.
While Feist was onstage she told us an anecdote on how she described the fest as "The Burning Man of Canada."
The programming runs morning to night with both concerts and workshops that create a one-of-a-kind concert with multiple players -- and the odds of it happening again might be slim to none. The festival grounds consist of both large and small stages located at Birds Hill Provincial Park. Some of the small stages are hidden away in the woods which make for a relaxing spot to hide away from the main festivities, play a game of cards, and enjoy the music in the shade.
If you get folked out there are plenty of dining options onsite, ranging from Indian or Thai cuisine, pierogis, hot dogs, burgers, and even fish and chips -- but let us not forget the poutine! Plus, all of the cups, plates, and plastic ware are biodegradable. So delicious and and guilt free? Fine by me.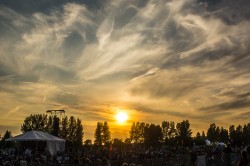 A music tent is on site where you can find your festival and band merch. The handmade village is also a shopping highlight, featuring crafts and crafters from all over Canada selling wearable art, toys, earthenware, and more. One of our personal favorites was "Old Hat," which features cloth caps made from repurposed vintage fabrics. The only part that's not repurposed is the thread holding them together.
We spent our nights at the campground. Festival goers will find themselves in either the "party campground" or the quiet campground. It's no secret that our High Plains Reader staff like to have a good time so we spent our nights howling at the moon with the other campers. One of the highlights of our campground was a DIY stage set up called the Juke Joint.
We saw a host of fantastic Winnipeg talent ranging from the lo-fi garage rock of Woodshed Havoc, to the Dirty Catfish Brass Band who, the night before, we're told, commandeered a psychedelic trojan unicorn as a stage -- we saw pics on their instagram, so there's proof it happened.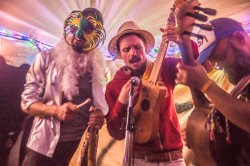 We also saw Winnipeg-based folk punk guitarist Jamie Buckboro and Mariachi Ghost. We chatted with them and they gave us a rundown on their traditional instruments. Their percussionist Ian gave us a crash course in playing the donkey jawbone -- and I think I found my instrument.
There's something magical about the Folk Festival. The people we spoke to have made it a summer tradition spent with family or friends. At sunrise we gathered on Pope's Hill and saluted the sunrise with hundreds of other campers. Drumbeats pulsated through our bones, those who had instruments played along, some danced, while others including myself watched in awe.