​For the record: the latest album from Tigers Jaw
by Jack Stenerson | .(JavaScript must be enabled to view this email address) | Music | May 31st, 2017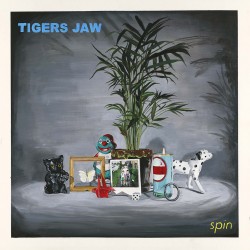 Tigers Jaw can do no wrong. Guitarist/vocalist Ben Walsh and keyboardist/vocalist Brianna Collins have been making a huge impact in the underground music scene since 2006.
In 2008 they released a self-titled album that became the soundtrack for indie and punk kids everywhere. I thought there was no way they could ever top an album that good. In 2010 they released Two Worlds, that failed to recapture the magic of their previous album, but it was still a better record than most bands can write.
2014 came and so did Charmer. This record took everything from their first two albums and somehow improved on every part of it. It was everywhere, everyone was talking about Charmer. They took over 10,000 vinyl pre-orders through their label, Run For Cover Records, which at the time was the highest volume they had ever shipped. I again thought there was no way to ever top it.
Here we are in 2017 and they did it again. Spin was released May 19 and is easily the best thing they have ever done. This is their major label debut on Atlantic imprint Black Cement Records. Black Cement is operated by their longtime producer Will Yip, who has recorded some of the best indie bands of the past ten years including Title Fight, Balance and Composure, and Circa Survive.
Spin opens with the upbeat "Follows" and jumps right in with Walsh's signature and very recognizable vocal style. In the chorus he sings, "I should have listened to you when you said nothing will make this easier," establishing the familiar theme of love and heartbreak and making it instantly relatable to the late teen/twentysomething demographic that has been their core fanbase from the start.
"Favorite" follows, a slightly slower tempoed second track that is very reminiscent of the sequencing of the 2014 Charmer. Collins takes the vocal lead in the third track, "June", which also is the first to prominently highlight her keyboard melodies. My favorite thing about Tigers Jaw is when Walsh and Collins harmonize together and they execute it perfectly on this song.
The standout track for me is Guardian, the first single they released. It is upbeat and has both members at their best. The vocal line is haunting while the keyboard provides just enough to drive the song forward. Walsh sings "I cannot be your guardian anymore" in a way that makes you think about the one person that didn't work out when you wished it had. It has every element of a great Tigers Jaw song and is the best song they have ever written.
While some would call it "playing it safe," Tigers Jaw stuck with the formula that works for them and created the best record of their career.
With this new release and now a major label backing, I expect this band to do big things in 2017. If you listen and fall in love, they are playing the Cabooze in Minneapolis on June 16th.
IF YOU GO
Tigers Jaw in concert
Friday, June 16, Doors 6pm, show 6:30-10pm
Cabooze Music Club, 917 Cedar Ave S, Minneapolis
Across from Franklin Ave Station, Hiawatha Line
$16 & $18; box office: 612-338-6425