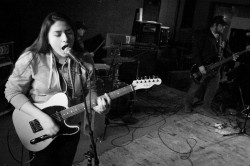 Fargo-Moorhead's artistic output shouldn't be underestimated. From visual art, to film, to music, there's plenty of creative work being produced in the area every year. Yet with so much content being made, it's easy to overlook some of the talent that comes from Fargo-Moorhead.
Free Truman is one group that many people might not yet be aware of. The band consists of Tayler Krabbenhoft, who provides vocals and plays guitar, her sister Tia Krabbenhoft on drums, and Scott Heidinger on the bass. Together, they produce a grungy, garage-y, upbeat sound that is described by the band members as fitting into the "fuzzed-out-lo-fi-surfy-indie-punk" genre.
"I simplify it by saying it's surf punk," said Heidinger.
Each member of Free Truman discovered the punk sound, and a passion for playing it, from different places. Heidinger's first experiences with the genre stem from his time skateboarding.
"I got into music from skateboarding, when I was a teenager. A lot of the skate kids were into punk and stuff, and they showed me some really good music. I started playing an instrument shortly after that, and now we're here."
Tia Krabbenhoft was brought into playing when she was asked to help out by her sister.
"I was asked to play an acoustics show," said Tayler, "and I was too shy to play it by myself, so like a week and a half before the show, I asked if my sister could play with me. I taught her a couple of basic drum beats, and we played that first show together under the name Tayler and Tia. We thought it was going to be a one time thing, but then Scott recorded our demo for us, and in the fall after that show Scott joined the band, and we were complete."
"The rest is history," said Tia.
Taylor Krabbenhoft discovered a passion for playing music by attending shows in the area. "I was always interested in music when I was a kid. I found out about shows going on in Fargo, like at The New Direction, and Scott's old house, 1019 House. I started going to shows, and playing music seemed like a realistic thing to do. It didn't seem far-off, it was like, 'Oh, all these people can do this? I can do this too.'"
While Tayler does a majority of the songwriting for Free Truman, often the band engages in collaboration. Whether playing or preparing a new set, the band members always have fun together.
"Honestly," said Tia, "I just enjoy hanging out with Tayler and Scott. I think it's fun, I like playing music in general. I like playing music with them, they're fun people. We all just like to hang out."
Free Truman released their first album, 'It's Whatever,' in May last year.
Anyone interested in hearing Free Truman live can catch them headlining for The Courtneys at The Aquarium next week.
IF YOU GO
The Courtneys with Free Truman and Velveteen
Monday, March 20 8pm
The Aquarium (Dempsey's upstairs), 226 Broadway N, Fargo
$7.00 advance, $10.00 door, 21+