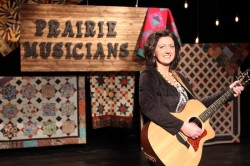 There is good news for our community members who love music but have a hard time with crowds. Prairie Musicians is back with an all-new season, with regional talent performing live on the Prairie Public studio soundstage. It is on Friday evenings.
Prairie Public recognized that there were many talented musicians in our region, so the show has been started to appreciate our regional music. Prairie Musicians just premiered last week as season seven on July 7.
The musicians are selected based on recommendations from our colleagues, friends, and acquaintances of all the musicians. This television show is recorded live in Prairie Public's Downtown Fargo television studio.
Prairie Musicians features a variety of genres, such as American folk music, pop, and rock. The next show will be on July 21 with rock and folk. Viewers can watch the shows online on Prairie Public's YouTube channel, which means that you can also re-watch last Friday's missed show. You don't have to know anything about music, just "sit back and enjoy," said Marie Offutt, Communications Manager of Prairie Public.
There is detailed information about the musicians and descriptions of their music. If viewers have suggestions for upcoming shows, they can write to the producer of the show, Barb Gravel, at bgravel@prairiepublic.org.
David Stoddard, Fergus Falls, Minn. July 21, 9pm David is a teacher and songwriter who has been performing throughout the United States for years. Now, he has a passion for house concerts because of the intimate atmosphere and personal connections. His original music is quirky and sometimes humorous, but with a clear message or opinion. David's true talent is allowing music to tell a meaningful story.
Connie Gjermundson, Albertville, Minn. July 21, 9:30pm Connie grew up with a love for horses and the rodeo, so it's natural that her music would reflect these passions. Her beautiful voice lends itself to the heartfelt lyrics that describe her experiences—ranging from being a mother to overcoming obstacles.
Max Johnk Group, Fargo, N.D. July 28, 9pm Max Johnk is a bassist, composer and teacher. His original jazz compositions are performed by talented musicians from the Fargo-Moorhead area. It's easy to lose yourself in the intelligent, relaxing music this group evokes.
Concordia College Marimba Choir Moorhead, Minn. July 28, 9:30pm Under the direction of Dr. David Eyler, select members of the Percussion Ensemble are invited to play in the Marimba Choir. They perform a range of works from classical and Latin, to pop and ragtime. You can see them perform at state and regional competitions throughout the year.
YOU SHOULD KNOW:
Prairie Public YouTube Channel: https://www.youtube.com/user/PrairiePublicBcast