​From the basement: Best of 2017
by Martin Beckmann | .(JavaScript must be enabled to view this email address) | Music | December 13th, 2017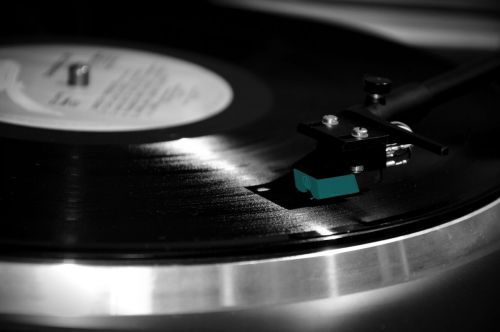 Heavy music in 2017 was a bit of a disappointment in my eyes, as some of the genres I love have become greatly oversaturated, and as a result stale and boring to my ears (Stoner Rock, Doom, and Sludge).
Black Metal also, which started as a breath of fresh air, has devolved into hundreds of copycat artists that do not look at attempting anything outside of the tried and true formula.
In some ways Vinyl collection has seemed to jump start the music industry while on the other hand it has created legions of fans that care more for the colored splatter on their pink $80 record than for the actual music itself.
But alas, here are 15 albums spanning multiple genres, that this bitter old man did enjoy greatly.
1 - Godspeed - You Black Emperor – Luciferian Towers - Just like an endearing family member that comes around every few years and makes me cry, I love them and I wish they'd just stick around so I could see them more frequently; but the impact their presence creates would not be the same without our separation. Monumental post-rock builds to mesmerizingly grandiose payoffs. This is my favorite thing they've released since Lift Your Skinny Fists. For fans of Mogwai, Explosions in the Sky, This Will Destroy You.
2 - Colour Haze - In Her Garden - Beautiful stoner rock from Germany in vein of Kyuss or Graveyard. Colour Haze is quite prolific with their records and have a lot to offer in the back catalog, but this is my favorite of their works and a decent place to start if you're not familiar. Melodic, vast, and packed full of groove this album has it all for fans of the genre. Light up a joint, get into a comfy spot, and let this melt you.
3 - Friendship - 1 and 2 ep's & Hatred - Savage Grinding sludgecore from Japan - this sh*t is brutal. Short explosive grindcore blasts, mixed in with slower sludgy songs that crush souls. If you're looking for something caustic and mean and have a tolerance for Grind, these are your albums. I am including both albums released this year as I came to love the collection of ep's a bit more than the proper full-length, but you should check them both if you're a fan of forward-thinking heavy stuff. Think Full of Hell at their worst meets Eyehategod meets ungodly experimentation.
4 - Converge - Glorious return to form for the American Metalcore legends. Probably their most diverse offering, this record contains violent and furious hardcore attacks on the senses, intertwined with more melodic and brooding tracks with plenty of atmosphere/mood and a larger than average amount of well-done CLEAN vocals. Overall one of their best albums, that truly showcases all the talent these dudes possess. For fans of: Its F*cking Converge
5 - Amenra – VI - More legends-making music. Amenra is back with MASS VI and they have not missed a step, a bit more melodic and accessible while managing to retain its despair and emotional destructiveness. Doom ala Neurosis and ISIS with desperate yelps and sparse clean vocals featuring songs that build and build and build until they rupture violently and disassemble. Mesmerizing stuff from these Belgian doomy bois. If you like this and still haven't dug into their older stuff, now is the time.
6 - Hacksaw – Necrostalgia - Swirling slabs of technical riffing. Goregrind has never been my thing, mainly due to artwork and shady themes, but this, which is self-proclaimed goregrind, is fantastic. Vocals are robotic and deeply buried in the mix, allowing the technical precision of the riffs to take the foreground; and spooky movie samples are well-placed throughout to help to create the foreboding atmosphere that is on display here. Another piece of work displaying that grindcore and extreme metal is in fact an ART form and should be appreciated.
7 - Power Trip – Nightmare Logic - A little bit easier-to-digest version of themselves, but rips nonetheless. American Thrash at its finest with shout-out-loud parts, seething solos as well as steamy thrashcore breakdowns that'll make your weewee hard. The move over to Southern Lord was a good move, as I've seen a lot more press on them and they deserve it all at this point. Forewarning - Some side effects may include violent head banging and uncontrollable body thrashing. For fans of Anthrax, Hatebreed, Exodus.
8 - Slund – Call of Agony - Scary and intense first offering from this one-man project originally from Slovenia. Slow, doom-drenched riffs coalesce with lightning speed, hardcore spasms and man-on-fire vocals, to create a challenging yet rewarding spin. Reminiscent at times of Primitive Man, Seven Sisters of Sleep or Indian Fist Fighting with Nasum, this album is inaccessible, dark and horrifying, thus making it a must listen.
9 - Chepang - Dadhelo – Spastic Grindcore with that sludgy edge I love so much. This, combined with the insane frantic vocal delivery from duel vocalists, two drum sets, and some interesting change of pace moments, makes for a maddeningly fun experience. Originally hailing from Nepal and with a band name that that represents a poor, dwindling culture in Nepal, this album has a somber political mood that still spills over with creativity and a fun-loving spirit throughout. For fans of Full of Hell, Pig Destroyer, Wormrot.
10 - Egypt - Cracks and Lines - The hometown favorites return with what I'd consider their best effort as a whole. Not a moment to be missed here as all the bases are covered. Fuzzy Stoner Doom basslines and grimy vocal melodies intertwined with classic rock-tinged guitar work and killer solos are all to be expected; but the highlights here are when Egypt step out of their comfort zone and find themselves flying high with melody and mood. A grand addition to an already spectacular catalog. For fans of Thin Lizzy, Pentagram, Sleep
11 - Godmother – Vilseledd - Hardcore grind magic from Sweden. This band is hitting their stride, looking to be a contender to take over the mantle of Dillinger Escape Plan. Technically challenging "math grind" at times, but not beholden to any one genre, Viseledd stays a step above the competition by finding that comfortable middle ground between madness and listenability. Give this a listen if you're into Dillinger Escape Plan, Cult Leader, or Code Orange.
12 - Code Orange - Forever - A metalcore band at this point, Code Orange bangs out a set of tracks here that proves that this genre does still have a few gasps of life left in it. Furious pacing and violent vocal delivery is offset by more melodic slabs of heavy that set the atmosphere just right. Unrivaled energy live, this is one of the few bands I'd push my way into the pit for at my ripe old age. For fans of Cult Leader, Everytime I Die, Knocked Loose
13 - IDRE – Unforgiving Landscapes – There is some emotionally taxing stuff on display here. Unforgiving Landscapes consists of two 22-minute-long songs that are hard to even classify as metal but should appeal to the Funeral Doom crowd. The tracks weave back and forth between slow-motion stoner riffs and dense dark doomy riffing with ethereal wailing vocals floating above the heaviness of the riffs. Very melodic and somber while still quite heavy, this album cuts deep and is quite refreshingly different. For fans of Neurosis, Earth, Godspeed, Swans
14 - Low Estate – Covert Cult of Death - Diverse Metal act that plays in a style that could fit into Post-Metal, Black Metal, Hardcore, and Sludge. Vocals here range from enraged screeching to almost operatic, and one song even features the great Dwid Hellion from Integrity. Dynamically intriguing as well as pummeling and heavy as f*ck, and somehow always finding a way to be different in a world where most everything has been done. For fans of: Made Out of Babies, Bloodiest, Integrity
15 - Bufihimat - Technical Deathgrind from Russia - Three dudes playing Techgrind perfection that ramps up the oddness as each track passes. Blurring the lines between genres, this is a must listen for fans of the Extreme. For fans of Immolation, Red Chord, Origin.
[Martin Beckmann is the host of Locals on the 8, on 95.9 RadioFreeFargo]