​Genres collide at KRFF benefit
by John Showalter | .(JavaScript must be enabled to view this email address) | Music | September 6th, 2017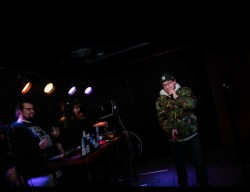 I'm sure you've noticed that I write my fair share of articles about the music scene in Fargo-Moorhead. It is my honest opinion that many people don't realize what an awesome music scene we have in this town. There was a time I didn't, to be frank.
If there are people as much if not more devoted to promoting the local music scene, they're certainly the DJs at KRFF. Recently I had the opportunity to interview Martin Beckman, who DJs "Locals on the 8" and "Thursday Night Madness" with Patrick Taylor and Cam Dewald about the next entry in a line of KRFF benefit concerts.
The concert, set to take place the evening of Thursday, September 7 at the Aquarium, will feature six local acts in quite the interesting combination. The musical acts will start off with three rap/hip-hop acts: Jantzonia from the North Dakota rap collective "Zen People", Stuart James, and Young Therobreds, who recently signed to the record label Bentley.
After that, there will be three heavy metal acts: Thrallfrost, Demifiend (who have performed for a prior KRFF benefit and are headlining this time around), and Sangha. There are murmurs that Sangha will pair up with one of the hip hop acts for a little rock/rap fusion.
Before the music, the benefit will begin with the comic talents of four local comedians: Alex Acevedo (who is also the MC), Hao Nguyen, Michele Pearson, and John Eugene. Comedy, heavy metal, and rap, it sounds like quite the combination, doesn't it?
That's the way that Beckman wants it. "That's what KRFF is, a hybrid," he said. "We want to avoid genre tags. People in this town like musical diversity." Beckman, who is also the KRFF event director along with Patrick Taylor, said that he had wanted to do a black metal show for some time, but unfortunately black metal acts are in short supply in Fargo (though not short on talent).
"I figured what's the best way to get people who don't listen to black metal to the concert?" he said. "Fuse it with a rap show." The rap crowd would show up for the rap acts first, and if they choose to stick around, they can get exposed to new musical avenues in heavy metal.
So whether you're a fan of both genres of music or are in the mood to discover something new, this benefit concert has something for everybody, a larger lineup like the one on Memorial Day weekend.
Beckman's plan is to have a bigger concert with a lineup of six or seven acts bimonthly, with smaller benefit concerts in between. He wanted to stress that all money that the show raises goes directly to maintaining KRFF and helping supply Fargo-Moorhead with a station for local and independent acts. "We're community-owned and community-operated," he said.
For only $8, you can enjoy a whole night of local musical acts as well as support a thriving musical community here in Fargo. Make sure to bring some extra money as well if you want to pick up any of the KRFF merchandise like shirts and cozies, as well as band merchandise.
And always make sure to tip your server, but drink responsibly. See you on Thursday!
IF YOU GO
KRFF 95.9 presents locals at the Aquarium
Thursday, September 7, 9pm
The Aquarium, 226 N Broadway, Fargo