Getting caught with a Mr. Meaner
by John Showalter | .(JavaScript must be enabled to view this email address) | Music | June 28th, 2017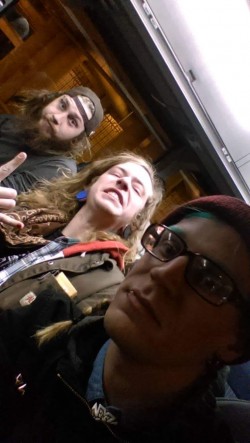 Some of my favorite interviews are with musicians and bands. They're often relaxed, casual, and I might get a drink or two out of them. Of course, we were at the Bismarck on the night of the interview because, as banjoist Mike Schmidt put it, "The Bismarck is for business," putting an emphasis on the first syllable.
That certainly was the case with Fargo band Mr. Meaner, who split much of their time between the Empire and the Bismarck downtown. "We live in dive bars," said Logan Hanson, the guitarist, vocalist, and lyricist for the band.
Mr. Meaner is quite a large outfit, comprised of Logan Hanson, guitarist, vocalist, and lyricist; Mike Schmidt on the banjo; newcomer Austin Miller (originally from Cincinnati) on mandolin, violin, and guitar; Andrew Meyer on bass; Will Burns on drums; and Danijel Zeric on saxophone.
The members of the group have plenty of musical pedigree outside of Mr. Meaner, as well, with Will Burns having played for SOTOS (short for SH*T on top of SH*T), Bottle Wound and Still; Danijel with Wicked Bees; Austin with Run Rabbit Run, and Logan with My Pizza My World and Bottle Wound. Will and Logan will be pulling double duty on Friday, June 30th at The Aquarium, where Bottle Wound and Mr. Meaner, which they are both members of, will be performing for a KRFF benefit concert.
Logan described the music of Mr. Meaner as "kind of like punk" but also "kind of jazzy with swing traditions," saying it was best described as "swing punk." In any case, it's truly an eclectic blend of genres and instrumentation. The band saw its genesis about four or five years ago, with solely Logan as a member. About three years ago, both Logan and Mike went on an unrelated, purely acoustic tour with the bands My Pizza My World and Robber's Roost.
After they returned from the tour in Texas, they "got serious" about Mr. Meaner, as Mike put it. Since then they've slowed down. At least three of the band members have moved into the same house together and Logan "tricked" their drummer into making Mr. Meaner a priority, as he put it. The band is very committed to the Do-It-Yourself (DIY) ethos, preferring to do everything band-related from recording to making and selling merchandise to even distributing the music either by themselves or through others they have befriended in the musical community.
In essence, they are trying to bypass the big record labels, who they believe commoditize music and constrict artistic expression. The band is currently working on recording a six-track EP that they hope to release by September and currently have one track recorded for, but are overcoming some temporary technical difficulties in mixing, as they recorded all of the instrument tracks separately. Logan said there are a couple of labels committed to the DIY ethic, called Sweater Weather and All We Got, that he has considered releasing the material through, but otherwise they plan to self-release.
Logan also recruited Austin, who has experience in graphic design, to help design merchandise and the like while we were there having our drinks. I'm fairly certain they had already settled on that before the interview but the impromptu recruitment got a good chuckle out of us. If you are making plans for the night of Friday, June 30th, it's hard to get more bang for your buck than getting to watch several local bands perform to benefit local radio at the Aquarium. Be sure to stick around and watch both Mr. Meaner and Bottle Wound, as well as all of the other bands: Swing Low, Kwaician Traylor, Germ Circus, Diane Miller, and The Young Thoroughbreds, as well as the comedians Joshua Dullea, John Narum, Alex Acevedo, and Tim Jones. You'll be supporting local talent and having fun while doing it.
IF YOU GO
KRFF Benefit
Friday, June 30, doors 6:30pm, show till 1am
The Aquarium, 226 Broadway N, Fargo Tickets $8, 21+