​Grand Opening: raising the roof
by Sabrina Hornung | .(JavaScript must be enabled to view this email address) | Music | August 2nd, 2017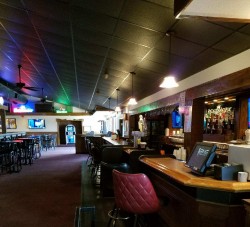 Fargo Moorhead's newest music destination
Last March, Jerry's Bar closed its doors and we thought we'd lost a landmark. Fortunately for Fargo-Moorhead, Steven Langstaff and Scott Nelson closed on the property in June. This coming week they will be celebrating their grand opening with three days of music, with acts hailing from F-M to Australia, ending with their national headlining act Drowning Pool.
Though Jerry's had undergone a remodel close to nine years ago, it has gotten quite the facelift under its new ownership with the addition of seven windows. Langstaff and Nelson brought in structural engineers to "raise the roof"--or at least raise the rafters, adding an additional two and a half feet to the stage area, allowing a 10-foot clearance. The stage itself was raised too. The space can accommodate up to 300 people and is separated into two areas, one for bands and dancing one for a bar.
Though the opening week is more rock- and metal-oriented, the following Thursday Eden Parker will be playing with Fancy That. They plan to diversify their offerings as much as possible by spanning a variety of genres.
Steven Langstaff is no stranger to the Fargo Moorhead music scene. From productions at The Shop to sound at the Nestor he is well connected. As co-owner Langstaff doesn't like to refer to Jerry's as a venue, "I don't sell tickets; I sell alcohol. I'm going to try to keep the ticket prices as low as possible, and that depends on the band. Right now we have 19 bands booked, and if you add up all the prices of all the tickets, do you know what that comes to? Seven dollars each." Langstaff continues, "If I'm going to supply entertainment, and people are going to drink and have fun, I shouldn't have to charge them $25 to do it."
They plan on having music from Wednesday through Saturday. Wednesday will be ladies night, the specials are yet to be determined and Thursdays will showcase local acts.
Jerry's will also feature a kitchen in the future, "There will be some extensive remodeling to get that kitchen open, so we have to make a choice: be open six days a week for 12 months or be open no days a week for 12 months. We are aiming in the next 12 months to have the kitchen open. Right now we're open six days a week, eight in the morning till 2am." says Langstaff. 8am may seem early but the employees working overnights at the nearby Crystal Sugar plant might breathe a sigh of relief to know they can have a beer after heading home from a long night of work. "Some people's eight in the morning, that's their five o'clock." he added.
"I spent eight years working at the Nestor, hoping to take it over, and when that deal fell through, I didn't think I would ever have a bar. And then this fell in my lap" said Langstaff. Somethings seem like they're meant to be.
"I believe that everything is like baseball. You either hit a homerun or you strike out. And anybody who's a home run hitter and works hard, it always works out." Langstaff said. "I hold this business close to myself. The other three businesses I was involved in were just to make money for me and my family. And that's not why this one started."
YOU SHOULD KNOW
Jerry's Original Music Club
1500 11th St N #2, Moorhead; 701-936-0328
Mon-Sat 8am-2am, closed Sunday