​Having a Chuckle in Fargo
by John Showalter | .(JavaScript must be enabled to view this email address) | Music | December 27th, 2017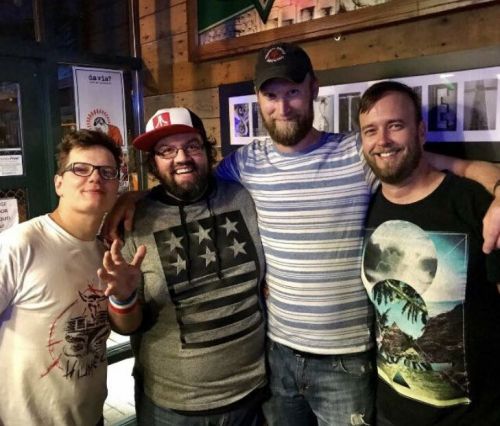 The San Haven Chuckle have been a long-time fixture in the Fargo music scene. I remember seeing them shortly after I first moved to Fargo, a little over seven years ago. As a matter of fact, the band has been around for twelve years. Despite the fact that I've had the honor of calling them friends for some time, surprisingly it is only now that I find myself writing an article about them. Recently I had the opportunity to sit down for an interview with a couple of members of the band, Sean Dunlap and Travis Gilbertson. Well, that is, after we geeked out about films for almost an hour.
The band has gone through many iterations during its twelve-year tenure, both in lineup and in the music it performs, going from jam band to cover band before finally settling on doing a mixture of covers and their own original songs. The current lineup is comprised of Travis Gilbertson on guitar; Patrick Hess, also on guitar; Sean Dunlap on drums; and Travis Atwood on bass. "We all do vocals," said Sean. Travis Atwood is the newest addition to the band, replacing their former bassist Matt Monson.
For those unfamiliar with their sound, Travis described it. "We sound like They Might Be Giants and Tom Waits got in a fight over a beer."
Since the term "funk" was already taken, Sean and Travis told me they also toyed around with describing themselves as their own genre, "musk."
Their performances are always very energetic and physically active, as much fun to watch as they are to listen to. Their lyrical content can be rather dark, dealing with themes of loss and depression, in sharp contrast to their upbeat riffs and stage antics.
San Haven Chuckle's upcoming album, "A Guide to Feeling Safe" will be their third. Prior to "Guide", they had "Secrets to Successful Living: Greatest Hits Volume 2" and the more succinctly named "Reason," all self-released.
Travis Gilbertson stated that the band is currently in the process of teaching their new bassist their existing catalogue, as well as rewriting some of the material for "Guide" in order to have Travis Atwood take part in the writing process for the album.
The band is currently not rushing for gigs due to training a new bassist, but they do have a concert on New Year's Eve at Sidestreet Bar & Grille, where they are veteran performers. Up-and-coming Fargo band The Knotties will be opening for Chuckle that night. So come out, have some drinks, tip your servers, be responsible, and listen to some music. What better way is there to shake off 2017 and bring in the New Year?
IF YOU GO San Haven Chuckle with The Knotties Sunday, December 31, 10pm till late Sidestreet Bar & Grille, 404 4th Ave N