HPR exclusive interview with Gabriel Douglas
by Sabrina Hornung | .(JavaScript must be enabled to view this email address) | Music | March 29th, 2017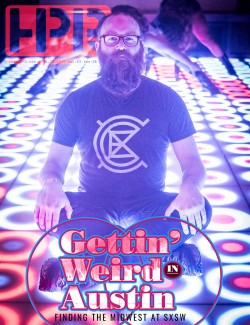 The High Plains Reader had the opportunity to sneak away from the festivities of South by Southwest to meet up with the 4onthefloor frontman Gabriel Douglas, over drinks and cupcakes left over from a party the night before at a surprisingly quiet bar on Fourth Street -- strong contrast with the bustling foot traffic and the sound track of traffic, chatter, distant amplified music and occasional sirens in the streets.
HPR Publisher Raul Gomez and I arrived early to test out the light levels for our cover photo, on the lit up disco floor that we shared with a trio of dancers dressed in camouflage, preparing for a routine that we assumed would be performed later in the evening. Everything was falling into place -- but that's part of the Music City magic.
Gabriel was instantly recognizable once he walked in with his luxurious trademark beard and dark-rimmed glasses. He was relaxed and engaging, like meeting up with an old friend.
After nearly a decade of playing and attending the South by Southwest festival in Austin, Texas, Gabriel Douglas is no stranger to the festivities or the 20-22 hour drive cross country from Minneapolis. It's a day in the life of a touring musician but the trek to SXSW is a mixture of business and pleasure.
"It's a class reunion, all of our tour mates are down here, we've already seen 15 bands we would never see otherwise and it's networking. We're always looking for our angle to get to the next plateau. This is where people are and it's also a mini vacation for us," says Douglas. "There's no reason for us to drive out of the Minneapolis-St. Paul metro area as a band unless we're playing shows. It's good bonding for the band and it's good camaraderie to keep the spirits high. It's very low-maintenance and low-risk. We're all having a good time. We've all been to Southby numerous times--so we all know what we're getting into. If you want to have a drag you could easily do that. If you want to have a great time--it's in front of your face. You can grab it if you want."
The Minneapolis based rock n' roll band 4onthefloor started up in 2009. Their signature rootsy, raw, foot stompin' blues rock sound comes from each of the four members playing a bass drum and writing all of their songs in 4/4 time. Hence the name.
"After I started going to festivals, I'd be the spreadsheet guy--to make sure I caught everything. Now I'm very--" he paused, "any festival I go to I'll try to put one bullet in the chamber and maybe try to hit the target like that. Other than that, I kind of just roll around, ya know? You run into someone you know and they're going somewhere. Cool. Go with them or don't go with them. I'm way more laissez faire about the whole situation at this point."
In all of the years of participating in the festival, we couldn't help but ask how he has seen it change. "The city has just grown--I used to park an RV on Rainy Street, sleep in it then go to the Ihop and wash up in the morning," Douglas said. "You can't even park on Rainy Street anymore. It's all house bars and high rises. It's grown out."
High Plains Reader: Do you have a favorite SXSW memory that sets itself apart from the rest?
Gabriel Douglas: We kicked it with Diarrhea Planet one year--then the next year I got to see them all the time. My birthday is March 12 so it hits at Southby every fourth year, I remember seeing them at Lambert's, body surfing for a t-shirt that said "Diarrhea is the new f*ck." It was really funny and really good.
HPR: Are you working on anything in particular?
GD: We've got some EPs in the can. We're trying to make stuff fast--although our last record was pretty fast, too. We're definitely not trying to be the rock n' roll band that does like two-thirds ballads on their records and then plays rock n' roll with their live show...which might be a lot of fun but it's what a lot of rock n' roll bands do. Put out a record and it's great but more than half of the record is sleeper songs. It's like what the f*ck? Are you a rock band or a ballad band? There's nothing wrong with being a balladeer, but that's not what the 4onthefloor wants to be.
HPR: We did an email interview last summer and you spoke of some of your projects outside of the 4onthefloor. Are you getting a chance to perform much of that material?
GD: I play music full time, so I have the opportunity to do a lot of that stuff. Orca Colony is with my buddy Alex Steele. He moved to Hawaii a year and a half ago, so we're doing like a "Postal Service" thing--but that has sort of slowed down.
Silverback Colony, the next record, is written but not recorded yet. I have a solo record in the can that I'm chopping right now--it's really stripped down.
HPR: Do you have any solo performances lined up for SXSW?
GD: Not this year, but I've done it in the past. The year that I did the most shows, I did 32 shows by myself. I put out an open call to anyone I knew. If anybody cancels, let me know. If I can get to the venue I will play -- as long as you have a guitar for me.