HPR exclusive: Kosha Dillz interview
by Morplay Katana | .(JavaScript must be enabled to view this email address) | Music | April 5th, 2017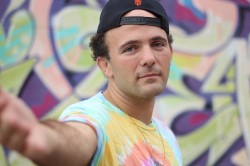 With the ability to rap in English, Spanish and Hebrew, Kosha Dillz may be one of the most diverse hip hop artists of our generation. HPR got the chance to ask Rami Even-Esh, aka Kosha Dillz, a couple of questions about his tour Oy Vey, his life, and his upcoming show at The Aquarium.
High Plains Reader: Kosha Dillz has collaborated with some pretty big names, including Matisyahu and the Rza. What was it like to work with the Rza?
Kosha Dillz: Rza brought me to the studio one day and it was one of those legendary wu tang nights where lots of people were there. Magically - Kool G Rap showed up at some point and by the next morning we left with a song. I had originally connected with Rza at Rock the Bells, when I snuck into the D.C. Event after I'd gotten deported from the U.K. for a work visa, so it was such a blessing in disguise. Definitely a life-changing song for me.
HPR: With a name like Kosha Dillz, there has to be a reason behind it. How did you get your rap name?
KD: Kosha Dillz was a way to keep my Jewish identity intact. I got clean, I switched it from "KD Flow" to "Kosha Dillz". The rest is history.
HPR: Kosha Dillz is currently on the Oy Vey USA Tour, traveling around the world, so I asked him to let us know what his tour life is like.
KD: I have gone onstage in Israel, Jerusalem, Tel Aviv, Boise, Atlanta, Austin, and even Las Vegas. Our car has gotten broken into and I even got a parking ticket after the car got smashed in San Francisco. We have had ups and downs, but a tour seriously resembles life. Oy Vey is Yiddish for a combo of WTF and OMG. It is the current state we are in: inexplicable and stressful yet extremely enjoyable at certain moments. We have to live life no matter what.
HPR: How did you learn to rap in three languages?
KD: Family Hebrew; first English and then Spanish in school.
HPR: Kosha Dillz is no stranger to Fargo, having been through our area before, I asked about his local memories.
KD: I feel like Fargo has amazing coffee shops. They also have a great record store, Orange Records.
HPR: What can we expect of a Kosha Dillz show?
KD: This show will be the most unique rap show they have seen. It's also for fans of indie rock , country, cultural music, warped tour kids, metal, gangsta rap, if you are in recovery from trauma or drugs, or if you're still out doing what you do in the street. There is something for everyone in my set.
[Morplay Katana is a DJ on KRFF 95.9 tune into Rebel Lego Radio on Tuesday nights from 7-10pm]
IF YOU GO
Kosha Dillz with D.Mills and AKAHS
Thursday, April 6th, 9pm
The Aquarium, 226 N Broadway, Fargo