​"It's cold but things grow": Boreal Gardens
by Sabrina Hornung | .(JavaScript must be enabled to view this email address) | Music | April 4th, 2018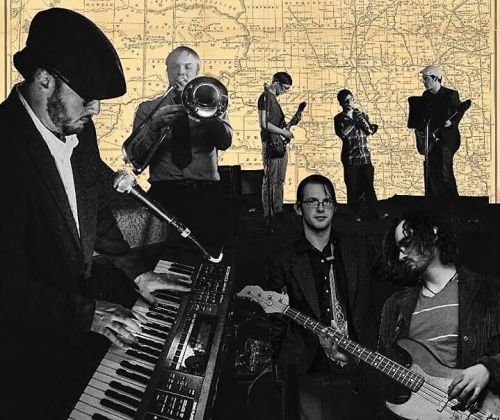 When asked how they would describe their sound the Bismarck-based seven-piece Americana band, Boreal Gardens, replied, "We have many different influences, but we can try to describe our sound as Elvis Costello meets the Rolling Stones." Add a horn section and some airy yet soulful vocals and you'll have the diverse sound that reflects the band's folk, rock and soul influences.
HPR had the opportunity to correspond with Boreal Gardens collectively via email.
High Plains Reader: How do you all know each other and how did Boreal Gardens come to be and where does your name come from?
Boreal Gardens: Boreal Gardens started when a few of us started jamming in the summer of 2013. First, it was Andrew, Ryan, his brother Ben, and Matt Stasica. Then Richard and Gus joined soon after. Dave Diebel joined at the start of 2014. Andrew and Richard had known each other for a while, but most of us had just met recently through other friends. Matt left for a job in Minnesota in 2014 and Sky replaced him later as our full time bass player. We had a hard time naming the band. We wrote a bunch of different of different words on notecards and started to mix and match. Matt suggested the word boreal, which refers to a northern subarctic climate. Andrew suggested adding the word gardens, and then we voted on what we thought was the best name.
HPR: How would you describe the art/ music scene in Bismarck? From an outsider looking in it looks like some exciting things are brewing..
BG: There is a vibrant and exciting art/music scene in Bismarck. Richard owns Rhythm Records and hosts regular shows featuring many talented local and national artists. The Laughing Sun Brewery has been a huge supporter of local artists and musicians since its opening. We are very grateful to them for always supporting us and giving us a place to develop our talents. There are several emerging opportunities for local artists in Bismarck, including the Art Alley, BDAC, and Blue Sky.
HPR: We spoke about you recording a new album out at Tony Bender's church near Venturia--can you tell us a little bit about that experience?
BG: We spent four days recording in the church next to Tony Bender's house outside Ashley, North Dakota in November of 2017. Nolyn Falcon and Joe Tibor were our sound engineers and were amazing to work with. Tony's son had been working at Rhythm Records and we had an open invitation to use the church for recording. The building had excellent acoustics and we got a lot of work done in a short amount of time. We are still working on recording overdubs and mixing right now. This album will have 14 songs and we have been working hard to see every aspect through
HPR: What was the biggest thing that you learned and took into consideration after recording your first album?
BG: The biggest thing we learned after recording our first album is how much work it takes. We realized how important it is to find people that you work well with to achieve your vision, and how important it is to have open communication during the recording, mixing, and mastering processes. It is important to have a deliberate plan going into the studio. We rehearsed and revised the songs for a long time with Nolyn before recording. Since our first album, a lot of us have recorded on different projects and learned a lot in the process.
HPR: With seven members in your band what is your writing process like?
BG: Our writing process differs depending on the songwriter that introduces the song and the song itself. Usually someone will have the lyrics, chords, and form for their song, and then it will be up to everyone else to come up with a part that fits. Nolyn Falcon helped a great deal with the arrangements for our new album, and we have all been very happy with his assistance as a producer.
IF YOU GO:
The Knotties, the Silver Daggers & Boreal Gardens at The Aquarium
Friday, April 6, 9pm-1am
The Aquarium, 226, N Broadway