​It's in their blood
by Sabrina Hornung | .(JavaScript must be enabled to view this email address) | Music | June 7th, 2017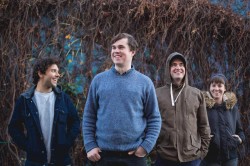 Surfer Blood's 4th album, now with backup vocals
"I was making fun of Tyler our drummer for having a really goofy surfer backpack with a little pouch for his surf wax and stuff like that. He told me I wouldn't understand because I didn't have surfer blood." says Surfer Blood frontman John Paul Pitts, on how the band got its name.
Pitts surfs occasionally but insists that his passion for surfing isn't as deep as that of half of his band.
Though Surfer Blood may have their hands full as they are currently promoting their new album Snowdonia, their fourth. It was released this February and they are currently on a three-week tour through the Central U.S. and Canada, with no surf boards for miles. Pitts adds,"It's a lot of really long beautiful drives."
Sadly, Snowdonia is their first album since the original guitarist Thomas Fekete succumbed to sarcoma, a rare and aggressive form of cancer, last May.
When asked what it was like recording without Fekete, Pitts said, "It was such a strange experience, because Tom was someone who was always full of ideas and opinions about music and I always admired his taste, because he was always showing me music I've never heard of." says John Pitts. "He was one of those people who was always digging deeper into stuff and was always happy to share his knowledge.
"I loved it when he would help me finish songs and if we collaborated on something, I never really questioned it. I never really had that feeling where you second guess. Is this good? Is this the right pick? Am I wasting my time with this idea? With this record I had to do that for myself.
When I got into it, it went really really well but the first few songs that I was working on...I was lost. I felt like my compass was completely off. That was probably the most difficult part of writing this new record."
This will be Surfer Blood's third show in Fargo, the last time being 2013. Since then they have gained a different guitarist and bassist, both of whom Pitts had known since high school. When bassist Kevin Williams left, Pitts found himself discouraged after losing half of his band. Fortunately, Lyndsey Mills, bass player and high school friend, called Pitts out of the blue. Though he has a sneaking suspicion that it was due to Fekete's encouragement.
Interestingly enough, all four members attended A. W. Dreyfoos High School in West Palm Beach, Florida and have a close working relationship.
Mills has added a whole new element to the band not only with her basslines but added vocal harmonies as well. Pitts said, "We've never really focused on backing vocals and harmonies and stuff like that. We weren't really that kind of band but I like it." He added, "It's kind of like a Beach Boys record, which I've kind of always wanted to do anyway."
IF YOU GO
Surfer Blood with Winter and Free Truman
Tuesday, June 13, 8pm
The Aquarium, 226 N Broadway, Fargo
21+, $10 advance, $12 door