​Knuckle Puck to play all ages show
by Jack Stenerson | .(JavaScript must be enabled to view this email address) | Music | April 12th, 2017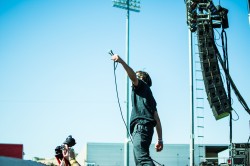 Nobody knew what happened at first. Pop punk group Knuckle Puck began playing the final song of their set at So What Fest in Dallas, TX when their vocalist Joe Taylor disappeared off the front of the stage. I was standing off to the side of the stage so I was able to see him being carried away from the stage with a trail of blood following him. With a quick "thank you" spoken into the microphone, the remaining members of the band dropped their instruments mid-song and rushed offstage to check on their singer.
Word traveled fast through the crowd and rumors began to spread. The most popular was that he tried to jump the six foot pit between the stage and the crowd barricade and didn't make it. What ACTUALLY happened was he ran out onto one of the speakers sitting in front of the stage and simply tripped off of it. He fell into the pit and cut his hand open pretty badly on a piece of metal.
Luckily he was not hurt any worse. He was rushed to the hospital, bandaged up, and was back at the venue before the night was over. What's even more lucky is the band was able to continue their tour the very next day, a tour that happens to be landing in Fargo on Wednesday, April 19th.
Hailing from Chicago, IL, Knuckle Puck has been making waves in the pop punk scene since 2011. They quickly stood out with their high energy shows and relentless work ethic. Since forming they have toured almost constantly, either on their own or opening for other bands such as Real Friends, Transit, Man Overboard, and Mayday Parade. They released two EPs before releasing their debut full-length "Copacetic" on Rise Records in 2015.
After watching them at So What Fest I can confidently say this is a show you do not want to miss. They kept the crowd engaged and were one of the best sounding bands of the whole weekend.
Knuckle Puck plays The Aquarium Wednesday, April 19th. Supporting them will be locals High Hopes, Monday Night, and Triple Deke. Tickets are $12 in advance and are available online or locally at Orange Records.
IF YOU GO:
Knuckle Puck--All Ages!
Wednesday, April 19, 5pm
Aquarium, 226 N Broadway