​Kwaician Traylor's musical trail to Fargo
by John Showalter | .(JavaScript must be enabled to view this email address) | Music | May 17th, 2017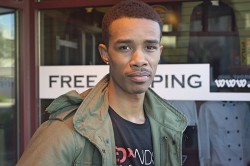 At twenty years of age a lot of us are still figuring out what to do with our lives. Whether we're still in school, trying to find that dream job, or even just trying to move out of our parents' house, the pieces of our lives usually haven't fallen into place by that point.
The same can't be said of local musician Kwaician Traylor.
Born and raised in Chicago before moving to downstate Illinois and eventually Fargo, Traylor has been blazing a path for his musical career through his talent and industriousness before he was old enough to buy alcohol.
Recently I had the opportunity to sit down with Traylor and his fiancée Ciera to talk about his burgeoning musical career, his previous projects, and what is on the horizon.
Traylor and his family moved to Fargo about four years ago. "The economy is good and my grandfather lives here," he said.
That wasn't the only reason he decided Fargo was the place to stay, however.
"I was looking for a new church home, and God told me that this was my new home." Traylor has a firm belief in providence and that God is handling things, and looking at how things have fallen into place for him, it certainly seems like it was meant to be.
Surprisingly, even though he had previously been in band and choir courses in school, Traylor hadn't decided to settle on pursuing a musical career until after he had already moved to Fargo and started attending Fargo South.
By the time he moved here, he had only been learning to play guitar for seven months, though he had developed quite an affinity for it.
"I hadn't really thought about what to do with my life," he said. To be fair, a lot of us hadn't put much thought into what we're going to do with our lives by the time we were juniors in high school, but Traylor had the gumption to already start forging that path.
By age 17, Traylor had written his first song and scored his first gig at the Great Northern Bicycle Shop. He also joined the Fargo South Jazz Band and two different choirs.
Since then he has performed at a long list of popular Fargo-Moorhead destinations he rattled off to me, including: Drekkers, Junkyard Brewing, Fargo Brewing Company, Teaberry, 20 Below, the Hodo, the New Direction (which he said really 'opened him up'), the Aquarium, Gio's, the Island Park Festival, the Carlson Library, and Beans Coffee Bar.
Not only has Traylor performed scores of local gigs, but he has independently released three albums and plans to release a fourth this summer.
His music is unique and hard to pigeonhole in one genre, drawing inspiration from genres as diverse as English traditional folk songs, acoustic music, pop music, hip-hop, and soul.
As for subject matter, Traylor said, "It's all directly related to my life," whether it's about his childhood in Chicago or his current engagement and upcoming marriage.
His first two albums, 2015's "Six Strings and a Notebook" and 2016's "Vision EP" were all recorded and produced in his bedroom. His third, "VIP Sessions" was recorded live at the VIP Room earlier this year.
The fourth album, which is being recorded and produced by Traylor's friend and mentor Chris Schuster, the jazz director at Fargo South, is currently unnamed but will be released this summer.
Even though the title of the album is yet to be announced, two of the tracks off his newest album, "Ageless" and "Soldier", are currently uploaded on his Soundcloud. The first track is about the love of his great-grandparents, who recently celebrated a milestone 60th wedding anniversary. Traylor said the second track is about, "where I've been and where I'm going, getting engaged, and where God has taken me."
Traylor's biggest project on the horizon other than his fourth album is certainly his upcoming show at the Fargo Theater on Saturday, August 19. He will be co-headlining the show with fellow musician Jaeden Schaan and the band The Knotties will be opening.
When Traylor first approached the tech director of the Fargo Theater, Adam Rodar, about the possibility of having a show there, Rodar asked him, "Can you sell out nine hundred seats?" Traylor was surprised the theater could seat that many people, and as he stood on stage Rodar turned on the stage lights and illuminated the entire theatre including the balconies.
Traylor took that as a challenge to overcome. "When I saw that, I knew God wanted me to perform here," he said. He started a Kickstarter for the concert and after his success there he was determined to sell out the show. If you want to help turn that dream into a reality, tickets are currently available at Tickets 300, at 300 Broadway N, Fargo.
Otherwise, you would be hard-pressed to find a place that Kwaician Traylor won't be performing at. In addition to any number of booked performance and pop-up gigs that he has, if you happen to be down on the corner by Dempsey's on a Friday or Saturday evening, you can often find him doing an impromptu acoustic guitar performance.
"He plays everywhere," said his fiancee Ciera.
IF YOU GO
Lung with Kwaician and Velveteen
Thursday, May 25, 930pm-12:00am
The Aquarium (Dempsey's upstairs), 226 Broadway N, Fargo
Advance tickets: Tickets 300, 300 Broadway N, Fargo