​Leonard the energy bringer
by Sabrina Hornung | .(JavaScript must be enabled to view this email address) | Music | July 12th, 2017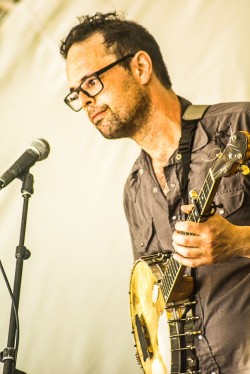 Photo by Raul Gomez
Leonard Podolak is both a contributor and an innovator on the Canadian folk scene. Considered a clawhammer virtuoso, the Grammy and Juno award-winning artist has entertained audiences worldwide, with a wide range of styles and influences. HPR had the chance to chat with Podolak onsite at Winnipeg Folk Fest this year about his banjo beginnings, growing up with the festival and his latest projects.
High Plains Reader: In the Winnipeg Folk Fest program you're listed as a banjo virtuoso. What's your background--how did you get into the banjo?
Leonard Podolak: I got into the banjo here at the Winnipeg Folk Festival. I saw a fella named Bela Fleck and the Flecktones, he and his band played "new grass." Bela Fleck took bluegrass banjo and took it into jazz, and swing, rock n' roll, and all these other styles. I was just blown away.
My dad--who's the founder of the folk festival wanted me to play the banjo from the time I was six and he wasn't successful at making it happen. Then at 16 I saw Bela and I was like--I'm ready Pa. He could show me old time stuff but I wanted to do New Grass and bluegrass like Bela Fleck but never quite took that direction.
HPR: You mentioned that your dad started the folk festival, what has it been like growing up around the folk fest?
LP: It's been a journey. When I was a kid it was my parents who ran it and it was taking up their lives all the time. It was this this thing that I kind of wasn't much interested in and it was the thing that kept mum and dad away (laughs).
The festival itself would be fun. I'd be playing with kids and playing soccer and watching music. When I was in my teens I was playing piano and I got into a basement rock band and appreciating more of what I saw out here.
I've been a volunteer, I've been on staff, I was the kid of the founders, and then I started to be a folk music fan. That made it really exciting to be here and be able to have access to the artists even though I wasn't one yet.
Ever since my dad left the festival's changed--so there's that weird dynamic of the modern sensibilities both in the infrastructure and music, and that's interesting too. This festival's had a huge part of my life--more than one can imagine I think.
HPR: How many workshops are you participating in this weekend?
LP: Well, I was signed up for four but I'm also playing with Ten Strings [Prince Edward Island-based folk group Ten Strings and a Goat Skin]--so I think it's about six or seven. So I've been doing two or three things a day.
HPR: Ten Strings and a Goat Skin isn't your main project is it?
LP: Not at all. I produced their record--I'm not in that band. Right now I do a little bit of solo stuff and I have two projects than I'm involved in. One is called A New Road. It's a band based in Ireland and they're a traditional Irish band that flirts with old Appalachian music, so I fit in because I play Irish tunes on an Appalachian banjo. Another project is Matt Gordon and Leonard Podolak. Matty's a great old-time fiddle player, also living in Ireland, so old-time Appalachian fiddle, clogging, and a bit of hambone.
HPR: How do you handle your practices if you're in Canada and they're in Ireland?
LP: That's the thing: we made records five years and we've been rockin' that ever since. It's been interesting because among all the different projects and little things that come up here and there, I've been keeping busy.
I do a lot of stuff by myself, just like with different projects. Other people just call me to be "Leonard the energy bringer,""Leonard the weird guy," or "Leonard the banjo player," or whatever, but yeah somehow I keep busy.
I work for Home Roots right now, a nonprofit organization started by my parents. We've created a network of house concerts across the country, so there's 12 different tours and they each run about six times a year and they each have 12 gigs, so we've created about 700 folk music concerts in Canada a year--which is pretty cool.