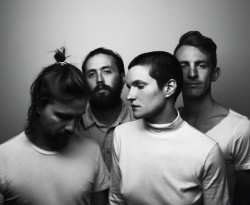 Buck Meek of Big Thief on touring, Adrienne and 'Capacity'
Photo credit: Shervin Lainez
Buck Meek, guitarist for Big Thief, the Brooklyn-based indie band, and songwriter, vocalist and guitarist Adrienne Lenker's paths crossed a number of times before they finally had a chance to connect. Soon, a beautiful friendship blossomed and their collaborations led to Big Thief. She sings softly but they carry a big sound and intense touring schedule.
HPR had a chance to speak with Buck on the rigors of touring, the bond between him and Adrienne and their new album Capacity.
High Plains Reader: Big Thief has a pretty rigorous touring schedule. Do you have any pre-tour rituals before you hit the highway?
Buck Meek: These days, since we have such little time off tour, three out of four band members just have storage containers without apartments, so we just kind of have like a suitcase that we live out of and I'm basically just always ready to jump in the van. I've set my life up to be really portable, so most importantly, when I'm off tour I just completely relax and spend as much time reading, sleeping, walking in the park, spending time with old friends, spending time on the phone with my family -- just all of the things that are harder to do on tour.
HPR: That sounds really liberating!
BM: Yeah, it's been a process to set it up like that. There were a couple years where we were all in apartments and were constantly having to sublet. We would get home unpack and then we'd have to try to get everything ready and that was exhausting. We just fully embrace the lifestyle for now.
HPR: How did you and Adrienne meet?
BM: We first met in Boston in 2010. I had a band, it was this twisted New Orleans brass band--we opened for her band at the time at this house party called The Mothership. We knew each other on stage with the changeover. We both made a strong impression on each other musically that night. We really loved each other's bands--she totally blew my mind.
We met briefly two or three years later. We had not seen each other since then. The day she moved to New York, I ran into her at the grocery store as she was moving in. I remembered her from that show and then offered to be her tour guide. We started hanging out playing music in the park and on the steps.
HPR: What did you find so compelling about her musical style?
BM: So many things, but the center of it is, I felt Adrienne has this ability to unlock emotion with words that I think is really rare. It's so hard to explain emotion and steer it with words. Words are so specific and limiting and spirit is so thick. Adrienne has this gift for taking those obliques and abstract perspectives and words to really open up, explain emotion and spirit.
She's one of the most generous songwriters I've ever met. She leaves this beautiful ratio to be interpreted and integrated into the listener's spirit. She's also such an incredible guitar player, so creative and innovative with the guitar and for reasons beyond me, I felt really compatible. My guitar things fit right in immediately, as soon as we started playing. It was so easy. It's not always that way, ya know? It felt really natural.
I think the basis of it was, I felt this immediate and inherent deep friendship as soon as we met. We felt this incredibly strong bond. That was the engine for our musical development together. Music just felt like the best way to really dig into that. It was so beyond words and explanation.
HPR: Congrats on the recent release of your latest album, Capacity. What was your recording process like?
BM: We were graced with this incredible studio for an entire month in upstate New York. Our friend has a really beautiful space called Outlier Recording. He was going to be on a trip for a month in the winter and he needed someone to take care of his property. He has a lot of farm animals there, like goats, chickens, and sheep. He needed someone to take care of the space and said we could basically use the studio space in trade for that.
We had a month in the wintertime in the frozen Catskills, and with this album we went in with mostly brand new songs. Adrienne showed us a lot of the songs for the first time in the studio. She would just come into the studio in the morning with an acoustic guitar and show us. We'd spend the whole day learning it and writing parts for it. Then we'd record in the evening and we had enough time to go through that process a number of times.
A few of the songs had to be re-approached after a couple weeks. We went back to them and came up with a completely different arrangement.
It was pretty fresh compared to Masterpiece. We had been playing the songs for almost half a year, played a whole tour with them before we went in and recorded everything really fast.
HPR: Where did the moniker Big Thief come from?
BM: Well, there's a variety of explanations but I think the central one for me me is the idea that all creation is every invention that we're borrowing from the collective consciousness. Just redefining itself with our own vision.
IF YOU GO
Big Thief at Winnipeg Folk Fest
July 7
Birds Hill Park, Winnipeg MB
IF YOU GO
Big Thief with Twain
Monday, July 10, 9pm
The Aquarium 226 N Broadway, Fargo