​Locals unite!
by Martin Beckmann | .(JavaScript must be enabled to view this email address) | Music | May 10th, 2017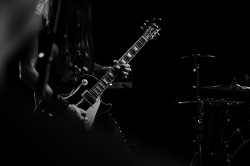 To the outside world, Fargo, ND is possibly thought as nothing more than a boring, redneck infested, frozen tundra, or a flyover between coasts. In other circles, we are likely thought of as violent, odd speaking caricatures of Midwesterners because of how we're portrayed in modern pop culture thanks to THAT little movie and tv series you may have heard of. Most will not think of us as a growing epicenter for artistic expression, but this is swiftly becoming the reality. Locals on the 8 - Thursdays at 8pm on KRFF, radiofreefargo.org aims to be a catalyst for the continuing growth and expansion of the Fargo music scene.
Radio Free Fargo was founded in 2007 as a community station, originally partnered with Thunder Radio, the official radio station of NDSU. Both stations broadcasted from a facility on the edge of the NDSU campus for several years before moving downtown to their current location in 2013.
In August of 2015, Radio Free Fargo stepped out and became its own entity, becoming an independent community radio station broadcasting from the basement of this publication. With that move came a new frequency, 95.9 FM, and a new stream through CloudRad was added so that listeners can stream online from across the world.
The DJs on KRFF play a wide range of music reflecting a diverse range of tastes as well as talk shows discussing issues of local and national importance. The station has featured local art and music prominently since birth and this is where Locals and I enter the story.
Locals on the 8 was started in 2015 by Randal Black and Matt Oland of Orange Records and Pisstory fame. At the time I was doing Midnight Madness, a show that specialized in doom metal and extreme stuff at the time for a few months while getting my radio legs. As Matt put it , "When I found out that we(KRFF) would be moving to our new frequency, I was excited to build the station library. We knew that we wanted to have local music playing often in the automation, but also wanted a live show dedicated to local music. Randall Black came up with the name, and I hosted the show for the first year, and by that time I was getting burned out on doing two shows a week. That's when I asked if anyone else would want to take over host duties, that's when Martin jumped in."
I was very nervous at first, and thought I didn't have the skill to pull it off or that maybe there wasn't enough interest from local acts to fill an hour interview every week. Boy, was I wrong! Our goal to give local musicians a platform and voice that can be used to promote new releases, upcoming shows, tours, benefits, events and so on, has been a hit.
Bottle wound and Mr. Meaner were the first guinea pigs to come in studio and test the new format, debuting tracks that they had yet to play live. The episode was awkward, and terrifying, but we knew we had something. From there we haven't had a Thursday without a band gracing our airwaves. Musicians have been flooding our inbox, not just from one genre or portion of the scene. We have interviewed and played a huge amount of musical diversity, which some believe does not exist in fargo. From the punk, hardcore and metal scene to indie rock, folk and Rap – we support anyone that is local and brave enough to get up on a stage. We have done in studio performances (The Knotties, Sons of Mars, Jon Bondy), live freestyle (Kipp G), pre-show promotions for local shows (Gorgatron, Brutalur, Errorist) , and that is just the start.
On May 26th, KRFF will be hosting the first Locals on the 8 festival, which is set up to be a showcase for new and fresh music in the Fargo scene. This show, held at the mighty Aquarium in downtown Fargo, will be a huge event for us in a multitude of ways. KRFF sponsored shows are the lifeblood of our station. We survive because of these concerts, any money we acquire helps acquire new equipment and pay the day to day expenses of running a radio station. This is also a great chance for bands to do some networking and continue to intertwine the scenes within our city. Humans tend to isolate themselves within each of our collective "scenes" but the trend in the music world seems to be moving towards genre-less festivals and music that does not want to be tied to its genre specific audience. More and more we are seeing shows with rock, rap, metal and indie all coalescing. This is our goal, to form a collective of musicians and artists, without genre confines, in which we all know each other, and help to support every band that is making an effort to be known in our little Midwestern paradise. Fitting with that theme, the Locals Fest we will be featuring – Go Murphy, The Knotties, Wild Amphora, Grazing, Barnaby Jones, Jantzonia, Demifiend, Sons of Mars, and Brutalur.
We at Locals on the 8 are goofy and off the wall, we don't stick to a real format or template. We're hardly professionals, and sometimes battle with our equipment, while laughing too much at our own jokes, but our studio and this station are becoming a home for the scene. We can be a launch point to a new future for our city and music scene. Tune in to radio free Fargo at 95.9, go church or our website, and make sure to come support the festival! Your support is what will make sure that we can stay on the air and continue to provide this platform for all our artists in FM area.
IF YOU GO:
Locals on the 8 Fest
Friday, May 26, 6:30-1am
The Aquarium, 226 Broadway, Fargo